November 22, 2010
from PreventDisease Website
According to the U.K. Government, toddlers as young one are to be inoculated with three injections for six diseases at once in a bid to boost vaccination rates, the Government revealed yesterday.

The chief medical officer has told GPs to give the vaccines - including the MMR jab - during a single visit once a baby has passed his or her first birthday.

The 'super-vaccination' day will involve three injections to protect against measles, mumps, rubella, two forms of meningitis and bacteria that can cause pneumonia.

In the existing NHS timetable, a month normally separates the two meningitis jabs from the other vaccinations. The official advice was sent out to GPs in England and Wales last week.

Under the guidance of irresponsible medical practitioners and a complete lack of scientific scrutiny, the Government believes the change will simplify the complicated vaccine schedule and boost the uptake of vaccines.

The Goal of Every H1N1 Swine Flu Vaccine:
Immunotoxicity, Neurotoxicity and Sterility

Naturopathic Doctor and vaccine researcher Dr. Dave Mihalovic says the move will dramatically increase rates of neurological disorders in children.
"We know that chemicals and preservatives in vaccines directly and detrimentally affect the immune and neurological systems of toddlers, so there is no doubt that tripling the concentrations of these toxins will also exponentially increase the rates of neurological disorders in children."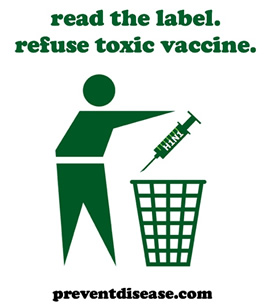 Ironically, the Department of Health made attempts to emphasize that there was no risk to children from having all the jabs on the same day. The plot by pharmaceutical companies is to market the "super vaccination" day by emphasizing that parents will have to fewer visits to the doctor.

Vaccines can trigger known side effects including:
Pain

Redness

Swelling

Fatigue

Headaches

Arthralgia (joint inflammation)

Myalgia (muscle inflammation)

Shivering

Sweating

Swollen lymph nodes

Fever

Vomiting

Tingling or numbness of the hands or feet

Shortness of breath

Vasculitis (inflammation of the blood vessels)
Serious Adverse Reactions
In her letter, the chief medical officer Prof Dame Sally Davies called for the change to be introduced 'as soon as practicable'. Davies also has ties to the Medical Research Council which is funded by pharmaceutical conglomerates.

Doctors say the first super-vaccination day could be introduced by the start of next year.

The change was proposed by a joint committee on vaccination after research based on only interviews with a small number of mothers and fathers found that the change would be 'acceptable to parents'.

A spokesman said:
'Independent scientific research has shown that this is completely safe and effective.'