by Michael Welch, Dr. Chris Shaw, Diana Johnstone
January 30, 2021
from GlobalResearch Website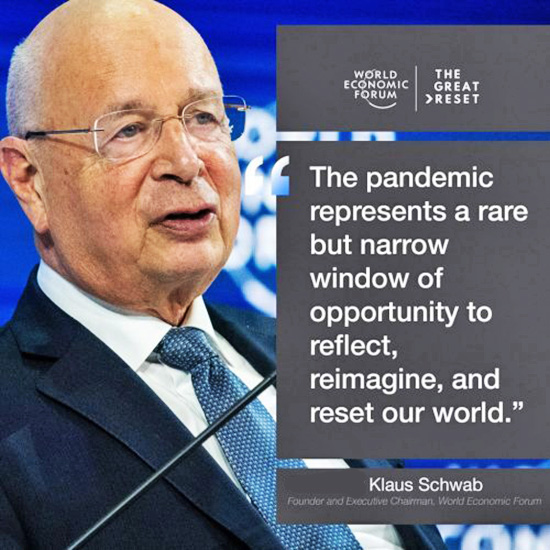 "Rebuilding trust and increasing global cooperation
are crucial to fostering innovative and bold solutions
to stem the pandemic and drive a robust recovery."
Klaus Schwab
Founder and Executive Chairman of
the World Economic Forum 1


"I don't consider the COVID to be the great crisis.
I think that the Great Reset is more of a crisis!"
Diana Johnstone
from this week's interview



The gathering of world leaders and elites completed their annual event this week.

The six day online Davos Agenda Summit, the first major global summit of the new year, saw the arrival of 1000 global 'leaders' including
heads of State and government

big company CEOs

heads of multilateral organizations,
...along with members of civil society and academia.
The program was built around the theme:
'A Crucial Year to Rebuild Trust'... 2
A variety of topics were on the menu, including,
Although the over-riding focus was addressing the,
"economic, environmental, social and technological challenges following the COVID-19 pandemic." 3,4
Klaus Schwab, World Economic Forum (WEF) Founder and Executive Chairman was quoted as saying the following:
"In the context of the COVID-19 pandemic, the need to reset priorities and the urgency to reform systems have been growing stronger around the world." 5
The 'pandemic' organizers say, accelerated the systemic changes that were apparent before it began.
At the conference, Schwab released his latest publication, "Stakeholder Capitalism - A Global Economy that Works for Progress, People and Planet," building a post COVID future on 50 years of advocacy for the stakeholder's approach. 6

What smells off about the approach however is the consequences for the less well off.
Where does the common woman and man have a seat at the WEF?

If multiple frauds and deceptions are being committed throughout the presence and reporting of the COVID crisis, what similar deceptions could be waiting in the wings at the Great Davos Delivery?
This week we will be dwelling on this theme, an ongoing COVID talking point now on the cusp of becoming the new normal in global economics.

In our first half hour, we hear Dr. Christopher Shaw, a neuroscientist introduce a unique angle with regard to the experimental virus armed with the messenger RNA.
This was a left-over remaining from last week's program.
In our second half hour, after repeating all of the problematic messaging in the official COVID story, we play a broadcast featuring Diana Johnstone, author of The Great Pretext... for Dystopia discussing the Great Reset.
It was recorded by Chris Cook of CFUV's Gorilla-Radio.
Audio
Notes
https://www.weforum.org/press/2021/01/world-leaders-to-meet-during-davos-agenda-in-a-crucial-year-to-rebuild-trust-51d7fa48d1

https://www.india.com/news/world/6-day-wef-davos-summit-2021-begins-online-from-sunday-pm-modi-xi-jinping-among-speakers-4352663/

https://www.weforum.org/press/2021/01/world-leaders-to-meet-during-davos-agenda-in-a-crucial-year-to-rebuild-trust-51d7fa48d1

ibid

ibid