by Christina Sarich
December 01, 2016
from WakingTimes Website


Christina Sarich is a freelance writer, musician, yogi, and humanitarian.
Her insights appear in magazines as diverse as Weston A. Price, Nexus, Atlantis Rising, and the Cuyamungue Institute, among others.
She was recently a featured author in the Journal, "Wise Traditions in Food, Farming, and Healing Arts," and her commentary on healing, ascension, and human potential inform a large body of the alternative news lexicon.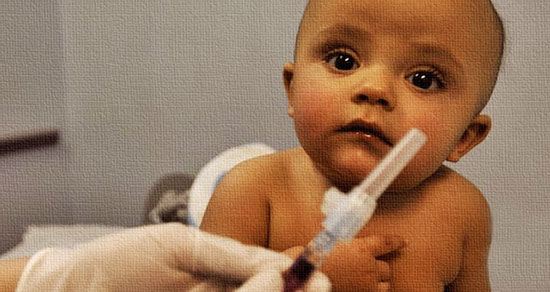 The results of the first ever study comparing the health of vaccinated children vs. unvaccinated children is out, and they are already causing controversy.
For many - hundreds of thousands of families that have already been injured by vaccines - the results won't be surprising, but to many others, the findings might be a little shocking. This is possibly why the scientific journal which originally published the results withdrew the study from publication.
The abstract of the study was published online in Frontiers in Public Health after being accepted November 2.
The study compared children's health via surveys of mothers who home-schooled their children aged 6-12 years. Nearly 40 percent of the children had never been vaccinated, so the control group was adequate to do a good comparison against children who had been vaccinated.
After heavy criticism from the public and scientific community due to the results of the study, though, it was retracted.
Why? Those that were vaccinated were three times more likely to be diagnosed with neurodevelopmental disorders such as autism.
The abstract stated:


Vaccination and Health Outcomes

A Survey of 6- to 12-year-old Vaccinated and Unvaccinated Children based on Mothers' Reports

doi: 10.3389/fpubh.2016.00270


ABSTRACT


Background:

Vaccinations have prevented millions of infectious illnesses, hospitalizations and deaths among US children.

Yet the long-term health outcomes of the routine vaccination program remain unknown. Studies have been recommended by the Institute of Medicine to address this question.



Specific Aims:

To compare vaccinated and unvaccinated children on a broad range of health outcomes, and to determine whether an association found between vaccination and neurodevelopmental disorders (NDD), if any, remains significant after adjustment for other measured factors.



Design:

A cross-sectional survey of mothers of children educated at home.


Methods:

Home-school organizations in four states (Florida, Louisiana, Mississippi, and Oregon) were asked to forward an email to their members, requesting mothers to complete an anonymous online questionnaire on the vaccination status and health outcomes of their biological children ages 6 to 12.



Results:

A total of 415 mothers provided data on 666 children, of which 261 (39%) were unvaccinated.

Vaccinated children were significantly less likely than the unvaccinated to have been diagnosed with chickenpox and pertussis, but significantly more likely to have been diagnosed with,

After adjustment, the factors that remained significantly associated with NDD were vaccination (OR 3.1, 95% CI: 1.4, 6.8), male gender (OR 2.3, 95% CI: 1.2, 4.3), and preterm birth (OR 5.0, 95% CI: 2.3, 11.6).

In a final adjusted model, vaccination but not preterm birth remained associated with NDD, while the interaction of preterm birth and vaccination was associated with a 6.6-fold increased odds of NDD (95% CI: 2.8, 15.5).



Conclusions:

In this study based on mothers' reports, the vaccinated had a higher rate of allergies and NDD than the unvaccinated. Vaccination, but not preterm birth, remained significantly associated with NDD after controlling for other factors.

However, preterm birth combined with vaccination was associated with an apparent synergistic increase in the odds of NDD.

Further research involving larger, independent samples is needed to verify and understand these unexpected findings in order to optimize the impact of vaccines on children's health.



Keywords: Acute diseases; Chronic diseases; Epidemiology; Evaluation; Health policy; Immunization; Neurodevelopmental disorders; Vaccination, Acute diseases, chronic diseases, Epidemiology, Evaluation, Health Policy, Immunization, Neurodevelopmental disorders, Vaccination

Citation: Mawson AR, Ray BD, Bhuiyan AR and Jacob B (2016). Vaccination and Health Outcomes: A Survey of 6- to 12-year-old Vaccinated and Unvaccinated Children based on Mothers' Reports. Front. Public Health 4:270. doi: 10.3389/fpubh.2016.00270

Received: 17 Sep 2016; Accepted: 21 Nov 2016.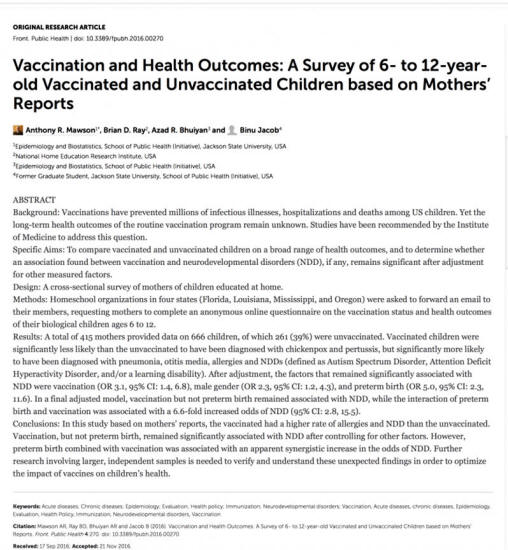 The initial backlash was significant.
Public comments included,
"this study is of poor design, though not impossible results. Study relies of self-report of moms, inducing bias," and, "Another garbage vaccine study in Frontiers journal. Scientists, stop reviewing/publishing there."
Science Blogs also quickly posted an article titled, "Antivaccinationists promote a bogus internet 'survey' - Hilarity ensues as it's retracted."
When the paper was pulled, the publishers were also accused of not following a proper retraction process.
Though the journal isn't the first to pull a vaccine paper amid public criticism - in February, Vaccine temporarily removed - then soon retracted - a paper linking the vaccine for Human papillomavirus to behavioral problems in mice; a modified version of the paper was later republished, the retraction is suspect considering how quickly the paper was pulled.
When the publishers were asked why this happened, they simply responded that the paper was submitted for review, but had not been approved.
Researchers like Catherine J. Frompovich likely wouldn't think the study is so 'hilarious' as Science Blogs attests. She writes of a doctor in the UK who believes vaccines are indeed tied to autism.
Dr. Graham Downing, who is a Neuro-musculoskeletal and Functional Medicine consultant in the UK has found that the vaccination of pregnant women increases inflammation in their bodies and also increases the risk of releasing inflammatory markers in their fetuses/infants.
Such releases include phenotypes [the set of observable characteristics of an individual resulting from the interaction of its genotype with the environment.] Downing also contends that the increased inflammation in cells caused by vaccines, also elevate in the fetal brain where cytokines release glutamates.
The prefrontal lobes and the limbic system, which involves human emotions, are affected in fetuses from pregnancy vaccines administered to moms-to-be. So, not only are children outside the womb affected, but the neurological/immunological decline starts while they are still in the womb.
Downing also attests that vaccines are tied to the artificial intelligence rollout goals of the elite.
As Frompovich writes,
"Dr. Downing says there are five-year and fifteen year goals for AI. The fifteen-year goal is to have AI run everything, including humans! You have to listen to his comments about that aspect - one word: 'frightening'!"

To 'authentic' his remarks, Doctor cited a report issued by the White House,

"A Federal Vision for Future Computing: A Nanotechnology-inspired Grand Challenge."

Here's what that 15-page report is about:

Create a new type of computer that can proactively interpret and learn from data, solve unfamiliar problems using what it has learned, and operate with the energy efficiency of the human brain.

[Basically, it's an artificial brain to replace the human brain. Also, they want to create a new soul for humans, too!]"
So, why are vaccine promoters so quick to dismiss, or make a drivel of a study based on mothers' health reports of their children?
Bias or no bias - it's hard to dismiss a 340 percent increase in autism and neurological damage rates - but those reasons are left to your imagination.