by Sayer Ji
Founder
January 10, 2012
from GreenMedInfo Website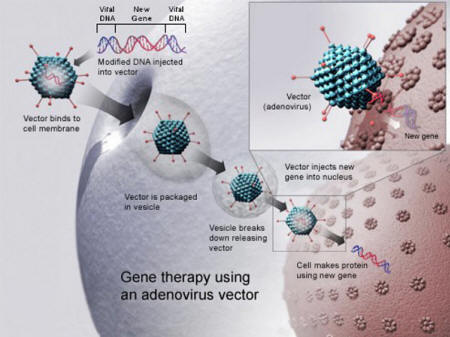 Let's face it: the only real justification for using vaccines to "immunize" ourselves against disease is derived from the natural fact that when challenged our immune systems launch a successful response.
Were it not for the elegance, proficiency, and mostly asymptomatic success of our recombinatorial (antibody-based) immune systems in dealing so well with infectious challenges, vaccination would have no cause, no scientific explanation, no justification whatsoever.1
In fact, ever since the adaptive, antigen-specific immune system evolved in early vertebrates 500 million years ago, our bodies have been doing a pretty good job of keeping us alive on this planet without need for synthetic, vaccine-mediated immunity.
Indeed, infectious challenges are necessary for the development of a healthy immune system and in order to prevent autoimmune conditions from emerging as a result of TH2 dominance.
In other words, take away these natural infectious challenges, and the immune system can and will turn upon itself; take way these infectious challenges and lasting immunity against tens, if not hundreds of thousands of pathogens we are exposed to throughout our lives, would not be possible.
Can vaccines really co-opt, improve upon, and replace natural immunity with synthetic immunity?

How many will this require?

Are we not already at the critical threshold of vaccine overload?

By "improving" on our humanness in this way, are we not also at the same moment departing dramatically from it?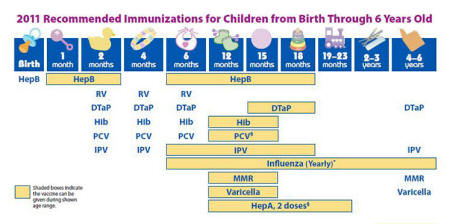 Presently, compliance with the CDC's immunization schedule for children from birth through 6 years of age requires 60+ vaccines 1 be administered, purportedly to make them healthier than non-vaccinated or naturally immunized ones.2
Sixty vaccines, while a disturbingly high amount (for those who retain the complementary human faculties of reason and intuition), does not, however, correctly convey just how many antigenic challenges these children face in total...
A new paper published in the journal Lupus entitled, "Mechanisms of Aluminum Adjuvant Toxicity and Autoimmunity in Pediatric Populations," points out that as many as 125 antigenic compounds, along with high amounts of aluminum (AI) adjuvants are given to children by the time they are 4 and 6 years old, in some "developed" countries.
The authors also state:
"Immune challenges during early development, including those vaccine-induced, can lead to permanent detrimental alterations of the brain and immune function.

Experimental evidence also shows that simultaneous administration of as little as two to three immune adjuvants can overcome genetic resistance to autoimmunity."
Vaccine adjuvants are agents that accelerate, enhance or prolong the antigen-specific immune responses vaccines intend to elicit. In essence, they enhance vaccine "efficacy," which is defined by the ability to raise antibody titers.
A vaccine's "effectiveness," on the other hand - and which is the real-world measure of whether a vaccine works or not - is not ascertainable through the number of antibodies produced. Whether or not a vaccine or vaccine adjuvant boosts antibodies that have actual affinity with the intended pathogen is what counts in the real world, i.e. antibody-antigen affinity, (and not the sheer volume of antibodies produced) determines whether a vaccine will be effective or not.
The semantic confusion between "vaccine efficacy" and "vaccine effectiveness" ensures that vaccines which disrupt/harm/hypersensitize the immune system by stimulating unnaturally elevated antibody titers may obtain FDA approval, despite the fact that they have never been shown to confer real-world protection. 3
Some vaccine researchers have even suggested that breastfeeding, which may reduce vaccine-induced elevations in antibody titers in infants, i.e. its iatrogenic disease-promoting effects, should temporarily be delayed in order not to interfere with the vaccine's so-called "efficacy."
Common adjuvants include: aluminum, mineral oil, detergent stabilized squalene-in-water, pertactin, formaldehyde, viral DNA, phosphate, all of which are inherently toxic, no matter what the route of exposure.
Many parents today do not consider how dangerous injecting adjuvants directly into the muscle (and sometimes blood, due to incorrect and/or non-existent aspiration techniques), especially in non-infected, healthy offspring whose immune systems are only just learning to launch effective responses to the innumerable pathogens already blanketing their environment.
Adequate breastfeeding, in fact, is the most successful strategy in the prevention of morbidity and mortality associated with infectious challenges, and is so distinctively mammalian (i.e. obtaining nourishment and immunity through the mammary glands), that without adequate levels (only 11.3% of infants in the US were exclusively breastfed through the first six months of life - Source: CDC, 2004) infants become much more readily susceptible to illness.
Not only have humans strayed from their mammalian roots, by creating and promoting infant formula over breast milk, and then promoting synthetic immunity via vaccines over the natural immunity conferred through breastfeeding and sunlight exposure, for instance, but implicit within the dominant medical model to replace natural immunity with a synthetic one, is a philosophy of transhumanism, a movement which intends to improve upon and transcend our humanity, and has close affiliation with some aspects of eugenics.4
The CDC's immunization schedule reflects a callous lack of regard for the 3 billion years of evolution that brought us to our present, intact form, without elaborate technologies like vaccination - and likely only because we never had them at our disposal to inflict potentially catastrophic harm to ourselves.
The CDC is largely responsible for generating the mass public perception that there is greater harm in not "prophylactically" injecting well over 100 distinct disease-promoting and immune-disruptive substances into the bodies of healthy children.
They have been successful in instilling the concept into the masses that Nature failed in her design, and that medical and genetic technologies and interventions can be used to create a superior human being.
In this culture of vaccination, the non-vaccinated child is "inferior," "dirty," perhaps even "sub-human" to those who look upon vaccination as the answer to what perfects the human immune system.
Transhumanism participates in a dialectic which requires a simultaneous and systematic dehumanization of those who do not share the same way of thinking and behaving.
The eugenic undertones of mass vaccination and the cult of synthetic immunity are now only thinly veiled, as we move closer to the point where a pseudo-scientific medical dictatorship lays claim to our very bodies, and the bodies of our children.
The point of no return (if not already traversed) is only around the corner:
the mass introduction of DNA and Recombinant Vector Vaccine technology.
Vaccines moved through the following stages (a tortured history of failures and massive "collateral damage"):
Live Vaccines > Attenuated Vaccines > Subunit Vaccines > Toxid Vaccines > Conjugate Vaccines,
...and only now reaching towards converting our living tissue into "vaccine-making factories" through the use of DNA and Recombinant Vector Vaccines, which are designed to directly alter cells within the vaccinated person's body so that they create the antigens normally provided by vaccines themselves.5
While not yet in use, clinical trial are now underway to obtain FDA approval. If we do not educate ourselves now and act accordingly, their mass implementation is inevitable, and our very genomes will become the next target of the vaccination/transhumanism agenda.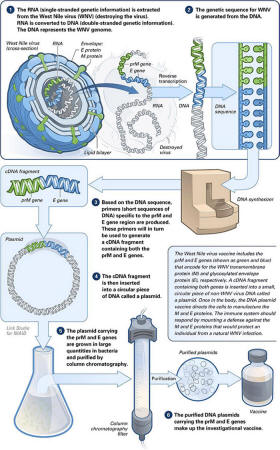 References
1 - Counting the number of vaccine antigens, in total, e.g. trivalent influenza = 3 vaccine antigens.

2 - Natural immunization occurs to those who gain immunological competence by being infected (often asymptomatically) by a wild-type pathogen, launching a normal immune response, overcoming the infectious challenge, and as a consequence obtaining lasting immunity.

3 - Transhumanism is an international movement that believes in the transformation of the human condition by using technologies to enhance human intellectual, physical and psychological capacities.

4 - The term "efficacy," when used in the context of a vaccine's antibody-elevating effects, does not equate to effectiveness, i.e. whether or not a vaccine actually works in real life to protect against the infectious agent of concern.

It is this semantic trick (conflating and confusing "efficacy" with "effectiveness") which convinces most of the "developed" world that vaccine research is "evidence-based" and focused on creating enhanced immunity, when in fact it is primarily a highly successful business enterprise dependent on defrauding its "customers" of both their money and health.

The dangers of common vaccines are so well known by "health experts," and the manufacturers who produce, them that their risk (like nuclear power) is underwritten by world governments. The importance of this fact can not be overestimated or understated.

Introducing foreign pathogenic DNA, chemicals, metals, preservatives, etc., into the body through a syringe will generate a response not unlike kicking a bee hive. The harder you kick that beehive, the greater will be the "efficacy" (i.e. elevated antibodies), but the actual affinity that these antibodies will have for the antigen (i.e. pathogen) of concern, can not be guaranteed; nor must the vaccine researchers prove antibody-antigen affinity to receive FDA approval.

Also, valuable immune resources are wasted by generating "false flag" responses to threats which may not readily exist in the environment, e.g. there are over 200 forms of influenza A, B & C which can cause the symptoms associated with annual influenza A, so the seasonal trivalent flu vaccine only takes care of little more than 1% of the possible vectors of infection - and often at the price of distracting resources away from real threats, as well as exhausting and/or damaging the entire immune apparatus.

Truth be told, there is actually a shocking lack of evidence to support flu vaccines, in any age or population.

What's worse, the vaccine response can "blow back" causing loss of self-tolerance and, via the resultant Th2 dominant immune system, the body can attack itself (auto-immunity). In the meantime, the first line of defense against infection (Th1) is compromised and this "front door" can be left wide open to unmet infectious challenges.

It is clear that one can create a synthetic immune response through vaccination, but it is not likely to result in enhanced immunity, insofar as real-world effectiveness is concerned, which is the only true judge of whether a vaccine is valuable or not.

One might view the basic criteria used by vaccine researchers, namely, that generating elevated antibody titers proves the value of the vaccine, oppositely: proving the vaccine is causing harm to the developing infant by generating unnecessarily elevated antibodies by any means necessary, i.e. throwing the chemical and biological kitchen sink at the immune system, e.g. aluminum, phenol, diploid (aborted fetal) cells, peanut oil, pertactin, etc.

Believe it or not, even the antibody-based theory behind long-term vaccine-mediated immunity has recently been called into question, indicting the credibility of one of the most basic tenets of vaccinology itself.

5 - The National Institute of Allergy and Infectious Diseases, Types of Vaccines