by Linda Moulton Howe
2002
from EarthFiles Website
recovered through WayBackMachine Website
The Great Pyramid of Cheops built 4,500 years ago for King Khu-fu in the 4th Dynasty, near Cairo, Egypt. The three pyramids on the Giza plateau seen from across the Nile. Cheops appears smaller than Kephren with the white Tura limestone cap because Kephren is on higher ground. The third smaller to the left are Mykerinos and the two other smallest were for the wife and daughter of King Khu-fu.

Drawing © 1971 Peter Tompkins.


"Doors" 1 and 2 are in the southern shaft rising from the Queenís Chamber on the left of the above diagram.

The most recently discovered "Door 3" is on the northern shaft rising from the same chamber.

Both Door 1 and Door 3 have copper pins, staples or handles.

Door 1 and Door 3 also block the two respective shafts at approximately the same distance from the Queenís Chamber: 210 feet.
Door 2 is seven inches beyond Door 1.

The actual path to Door 3 is now known to have three turns in it to get past the Grand Gallery.

No one yet knows what is behind Door 2 and Door 3 or what the purpose of these strange,

narrow shafts and little blocks might truly be.
October 12, 2002 Athens, New York - In 1957, a brilliant analysis of Egyptian architecture was published by philosopher Schwaller de Lubicz in a 3-volume book entitled, The Temple of Man, after his fifteen years of painstaking measurement work at Luxor and other Egyptian sacred sites. The miraculous pyramid and temple structures were, for de Lubicz, the end result of evolved consciousness applying the universeís rules of sacred geometry and Law of One in which "as above, so below" provided an architectural blueprint for the soul/spiritís evolution toward immortality.

De Lubiczís groundbreaking work was in French and not read by most English-speaking people until writer and independent Egyptologist, John Anthony West, translated and synthesized De Lubiczís theories in Johnís book, Serpent In The Sky, published in 1993. Now, at a time when serious war threatens between the United States and Iraq and even safe travel in Egypt might be halted, John has produced a 6-part DVD and CD entitled Magical Egypt that takes the viewer inside temples and pyramids to see the secret and sacred science of the ancients through the eyes and mind of Schwaller de Lubicz.

With Johnís extensive experience in decades of travel and research in Egypt ≠ including his own groundbreaking geological research of the Sphinx that lead to the hypothesis that it was weathered by water erosion more than 10,000 years ago ≠ I wanted to find out what John thinks about the newly discovered little doors, or blocks, inside the 8-inch-diameter "air shafts or star channels" of the great Cheops Pyramid that have baffled archaeologists for decades. His first response surprised me: that the narrow channels might not simply be aimed at stars, but at star resonances.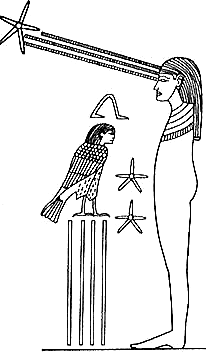 "The figure is from the second golden shrine in the Tomb of Tutankhamen.
It is one of a row of identical mummiform figures, part of a complex and particularly
enigmatic funerary test. But however puzzling the text and the reliefs, the astrological significance
of this drawing cannot be misunderstood. Rays of force or energy connect the consciousness
of the human individual and the stars;..."
Source: Serpent In The Sky © 1993 by John Anthony West.

---

Interview:

John Anthony West, Author, Serpent In The Sky, The Travelerís Key to Ancient Egypt and Mysterious Egypt:
"ITíS INTRIGUING TO CONTEMPLATE THAT CHEOPS AND ALL THE OTHER PYRAMIDS MIGHT IN FACT BE MACHINES, A TECHNOLOGY USED TO GATHER THE FREQUENCIES OF STAR LIGHT?

Yeah, or something of that sort. With Cheops, it might not be star light, but star resonances.

My guess would be that the narrow channels are somehow meant to resonate with the stars. In other words, itís resonating stellar energy. Now, of course, this stellar energy canít be measured, but there are a lot of things that canít be measured.

They knew what they were doing. We have to guess what they were doing. But when they are going to that much trouble to do something or another with that level of expertise, theyíve got something in mind that we donít understand.

And the overriding issue for the Egyptians was immortality, eternal life, which is not meant in some stupid way as wandering around in the afterlife drinking beer ≠ although thatís not so bad. But it has to do with conscious spiritual development and at the culmination of that, having successfully carried out that enterprise, letís say, the lifetime of the seeker, the sugar plum at the end is a higher state of consciousness that is not subject to time.

In some way, those pyramids facilitate that process. Those little star channels might tune the whole device to the stars in some way that we just plain donít understand.

Cheops Kingís Chamber, a temple of secret initiation
where those chosen were taught how to experience the release of the soul from the body container.

Source: The Secret Teachings of All Ages © 1925 by Manly P. Hall.


Editorís Note by Linda Howe: In his book, Secrets of the Great Pyramid © 1971 by Peter Tompkins, he summarized theosophist H. P. Blavatskyís description of the Cheops Kingís Chamber in her classic work about occult mysteries, 'The Secret Doctrine', this way:

"(She) says the Pyramid not only indicated the courses of the stars in heaven, but was 'the everlasting record and the indestructible symbol of the Mysteries and Initiations on Earth,' ...a temple of initiation where men rose towards the Gods and the Gods descended towards men."

According to Manly P. Hall in his extraordinary classic, The Secret Teachings of All Ages, he described an ancient Hermetic process in which the Great Pyramid was used to teach initiates how to experience the release of the soul from the body container.

"The candidate was laid in the great stone coffin, and for three days his spirit - freed from its mortal coil - wandered at the gateways of eternity. His Ka, as a bird, flew through the spiritual spheres of space. He discovered that all the universe was life, all the universe was progress, all the universe was eternal growth. Realizing that his body was a house which he could slip out of and return to without death, he achieved actual immortality. At the end of three days, he returned to himself again, and having thus personally and actually experienced the great mystery (of consciousness continuing after the moment of death), he was indeed an Initiate - one who beheld and one to whom religion had fulfilled her duty bringing him to the light of God."


TAKING YOUR IDEA THAT THESE CHANNELS IN CHEOPS MIGHT BE FOCUSED ON SPECIFIC STARS TO RESONATE WITH SOME KIND OF STARLIGHT FREQUENCY OUT THERE WE DONíT FULLY UNDERSTAND AND THAT CHEOPS MIGHT BE LIKE AN INSTRUMENT DESIGNED TO RESONATE AT A CERTAIN FREQUENCY OR FREQUENCIES BECAUSE THOSE LITTLE CHANNELS ARE THERE WITH THOSE BLOCKS.

Well, thatís part of it.



IF WE BEGAN LOOKING AT CHEOPS AS A PIECE OF EQUIPMENT THAT CAN RESONATE, AND CAN RESONATE AT CERTAIN FREQUENCIES WHETHER IT IS STARLIGHT FREQUENCY OR WHATEVER, THEN IT BEGINS TO MAKE YOUR MIND SEE THAT THESE LITTLE BLOCKS MIGHT BE IN THERE SPECIFICALLY FOR TUNING PURPOSES.

Maybe. Along those lines, another John West hypothesis ≠ one of the big mysteries about the pyramid is the that strange pit, the bottom most chamber thatís left unfinished. The usual explanation is that it was the original burial chamber and then it got to a certain point and decided, íWe donít want to do that.í And then they changed their mind and decided to put the burial chamber up higher. But to me, I never bought that. I donít believe the pyramid is the result of changes of mind. Although, I do believe it represents at least two or maybe more stages of building. But anyway, John Westís hypothesisís hypothesis is that the whole thing is intended as some kind of instrument and if you want to tune a regular instrument, letís say a guitar - you tighten the frets so you get the right resonance. If you are trying to tune a stone instrument ≠ thereís nothing you can tighten.

However, if you want to get it exactly right, you just hollow something out. In other words, you remove stone until you get exactly the right resonance. That struck me as a possibility. In other words, the whole thing is a resonant structure, maybe tuned to the stars. I donít know. Maybe designed to attune us to the stars. Again, this is pure speculation, but it did cross my mind. I have this hypothesis that the whole pyramid is indeed tuned and even the unfinished chamber down below is part of that process.



WHEN WE MAKE ANTENNAS, WE TALK ABOUT A WAVEGUIDE. ISNíT THAT THE WHOLE POINT OF CHANNELS IN ANTENNAS?

Could be. Yeah. In other words, an antenna ≠ again, weíre talking about a stone instrument. So how ≠ you canít put an antenna on a stone instrument. Actually, I like that, Linda, that these channels are sort of the negative of an antenna. An antenna is a rod that goes out into the air and attracts certain sound waves. If you have a stone instrument, maybe those little channels are reverse antennas, hollow antennas. I quite like that. These are among the huge mysteries to be solved."