Scientists Create and Add Elements 113 and 115 to Periodic Table

by Linda Moulton Howe

2004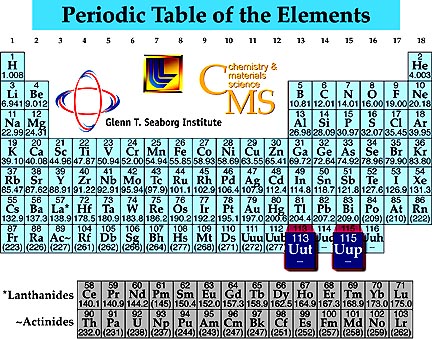 The superheavy Element 115 was created in a Dubna, Russia, cyclotron by slamming a rare isotope
of calcium that has 20 protons at americium which has 95 protons. Four atoms containing 115 protons
from the combination and fusion of the calcium and americium were created for less than
100 milliseconds - Element 115 Ununpentium - and then decayed into Element 113
Ununtrium and others. Graphic courtesy Lawrence Livermore National Laboratory.

February 6, 2004 Livermore, California - Back in 1989-1990, I had several phone conversations and a meeting with an electrical engineer named Robert Lazar to talk about his alleged firsthand knowledge of non-terrestrial technology. Bob had previously worked at Los Alamos National Laboratory and from the end of 1988 until March 1989 was doing part time work at a highly classified place called "S-4" built inside the Papoose Mountains near Groom Lake, Area 51, at Nellis AFB north of Las Vegas.
Bob said large engineering bays were dug into the Papoose Mountains and were camouflaged by sand-covered doors that would show up in satellite photographs like the rest of the sandy hills. Inside those engineering bays, Bob said there were at least nine disk-shaped spacecraft designated "extraterrestrial." He was assigned to do back-engineering on one particular model that seemed to have a highly advanced propulsion system. Bob said he was told that the fuel was "Element 115," not yet discovered by any Earth science. Bob's superiors explained that the sources of the Element 115 were binary star systems. Bob said the fuel material was in a stable form that could be held in his hands. Element 115, he said, had the unusual ability to produce antimatter in a special container that powered the craft. Antimatter combined with matter would cause mutual annihilation of protons, neutrons and electrons and the release of enormous quantities of energy.
According to Bob Lazar, only half a pound of the Element 115 at S-4 could power a spacecraft for about 30 Earth years. More amazing than that, he said, Top Secret scientific research had concluded that the huge energy Element 115 could produce was used to distort space and time with strong gravitational fields, also generated by technology on the spacecraft. The result was that the disk could quickly "jump around in the cosmos from point to point," rather than the impossibly long travel in light years that current human technology would face.
Thirteen years ago in 1991, Bob Lazar produced a documentary about his experiences inside S-4 with the alleged extraterrestrial craft and propulsion system. The title was Here is a brief excerpt of Bob describing what he learned about the power source that provides the energy needed to warp gravity, space and time.
Robert Lazar, Narration Excerpt from The Lazar Tape ... And Excerpts from the Government Bible © 1991 by Tri-Dot Productions:
"The power source (of the craft) is a reactor that uses Element 115 as a fuel and uses a total annihilation reaction that provides the heat that it converts to energy, making it a compact, light-weight, efficient onboard power source.
I've got a couple of quick comments about Element 115 for those who are interested. By virtue of the way it's used in the reactor, it depletes very slowly and only 223 grams of Element 115 ­ which is just under half a pound ­ can be utilized for a period of 20 to 30 years.
This demonstrates the enormous amount of power released when you totally convert matter to energy, which is what happens when anti-matter and matter are combined. So, back to our power source.
Inside the reactor, Element 115 is bombarded with a proton which plugs into the nucleus of the 115 atom and becomes Element 116 which immediately decays and releases or radiates small amounts of anti-matter. The anti-matter is released into a vacuum into a tube that keeps it from reacting with the matter that's around it. It's then directed towards the gaseous matter target at the end of the tube. The matter and anti-matter collide and annihilate, fully converting to energy. The heat from this reaction is converted into electrical energy in a near 100% efficient thermoelectric generator. This is a device that converts heat directly into electrical energy."

According to government insiders, all of this was ­ and still is - kept under a TOP SECRET government order of secrecy in the interests of national security.
If it's true that some isotope of Element 115 has been maintained in a stable form at S-4 Area 51 for decades, it would come as quite a shock to a team of Russian and American scientists who announced on February 1st that they had finally produced four atoms of Element 115 that until now had only been theorized, but never observed.
It's especially interesting that the scientists deliberately went looking for Element 115 because it is supposed to be theoretically in a more stable region of radioactive elements as the numbers of neutrons and protons increase in the Periodic Table of Elements. But the scientists found Element 115 by slamming atoms of calcium against larger americium atoms at almost the speed of light. The result is so fleeting, so unstable, that the Element 115 isotope produced hung around for less than 100 milliseconds before decaying into Element 113 and lower elements on the Periodic Table.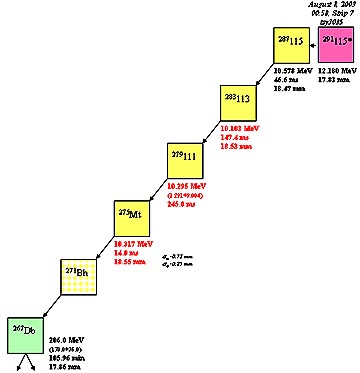 Element 115 Ununpentium decay chain: to Element 113 Ununtrium, to Element 111 Unununium,
to Element 109 Meitnerium, to Element 107 Bohrium, to Element 105 Dubnium.
Graphic courtesy Lawrence Livermore National Laboratory.

This week I talked with one of the American scientists doing the Element 115 research. He is Dr. Joshua Patin, nuclear chemist at the Lawrence Livermore National Laboratory in Livermore, California, about 60 miles southeast of Berkeley. I asked why their specific interest in making Element 115.
---
Interview: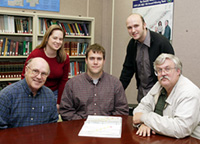 Members of the Lawrence Livermore National Laboratory
Chemistry and Materials Science Directorate's Heavy-Elements Research Team
in January 2004 (l-r): Jerry Landrum (retired), Dawn Shaughnessy, Joshua Patin, Philip Wilk,
and Kenton Moody. Not pictured: John Wild, Mark Stoyer, Nancy Stoyer,
Jackie Kenneally, and Ron Lougheed (retired).

Joshua Patin, Ph.D., Nuclear Chemist, Lawrence Livermore National Laboratory, Livermore, California: "It was an experiment that had been chosen because of its decay through Element 113. So, there was a notion at the beginning of the experiment that if we saw the decay of Element 115, we would also see the decay of Element 113. And those had not been seen before.
AND IN THE HYPOTHESIS OF THESE HIGHER ELEMENTS, ISN'T IT TRUE THAT CONCERNING THE PERIODIC TABLE, PHYSICISTS HAVE SPECULATED THERE WOULD BE A POINT SOMEWHERE AROUND ELEMENT 115 OR HIGHER WHERE THERE WOULD BE MORE STABILITY AND MAYBE EVEN A LONGER LIFE?
True. When you are looking at the various isotopes that can be produced of elements 114, 115, 116, even 113, there are some isotopes that have been predicted to have very long half lives. The region where initially it was proposed to have more stability was Element 114 with 114 protons. But we need to put more neutrons in (to balance out the protons) and that's a whole other area in terms of what kind of experiment we want to perform.
With the current level of technology and types of targets like the americium 243 and the beams that we used of the calcium 48, we can't necessarily quite get there, but we can get close. That's why we've done these experiments.
By doing the Element 115 and Element 113 experiment and in the past with the group of Element 116 and 114, we've shown that there is this enhanced area of stability.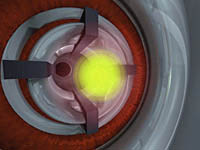 The moment of collision between an accelerated calcium-48 ion
and an americium-243 target atom which produced Element 115 that decayed into Element 113
and other decays. Graphic courtesy Lawrence Livermore National Laboratory.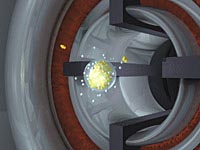 The residue of the target/ion collision which produced the new
superheavy Element 115, decaying with the emission of alpha particles.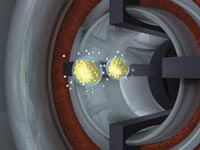 The spontaneous fission decay of the "decay descendant"
of the new superheavy Element 115 into two separate atoms.

COULD THERE BE AN ELEMENT 115 ISOTOPE THAT IS SOLID AND CAN BE HELD IN THE HAND?
Some day down the road, I think so. If it's true that we find something that is long enough lived. To hold something in your hand, you would need a significant quantity of these atoms. We've produced four atoms of Element 115 in a month. It would take ­ you don't have enough time in the rest of the universe to create enough that you could hold in your hand through these same kinds of production methods (that we are using). That's why I say a future technology might allow us advances in terms of how much can be produced and the target material, maybe a better way of producing ­ but somewhere down the road, there might be a possibility, sure.
AND SO WITH ADVANCED TECHNOLOGY, YOU MIGHT BE ABLE TO PRODUCE ELEMENT 115 IN ENOUGH QUANTITY THAT IT COULD BE SOME KIND OF SOLID MATTER THAT COULD BE WORKED WITH AND APPLIED IN OTHER WAYS?
Exactly."
Robert Lazar's Experience
I told nuclear chemist, Dr. Joshua Patin, about Robert Lazar's alleged work more than a decade ago with a stable form of Element 115 at the Top Secret S-4 facility in Area 51 at Nellis AFB in Nevada. I asked him if he knew anything about such United States government research?
Dr. Patin: "Only from what I've read, probably similar to what you've read in the past week doing my own searches on Element 115 ­ in my case, just to see what had been published about our current work. I just wanted to see how many articles had been written about the work we've done so far. But I came across this and hadn't read it before. I wasn't familiar with it whatsoever.
All I can say now is that the Element 115 we're creating lives less than 100 milliseconds. There is no way that you could ever have enough of the particular isotopes that we've created to hold in your hand with the current production methods that we have.
BUT IF HIS STORY WAS CORRECT AND OUR GOVERNMENT HAS SOME KIND OF SOMETHING FROM AN OFF-PLANET SOURCE THAT'S SUPPOSED TO BE IDENTIFIED AS A STABLE FORM OF ELEMENT 115, IT IS FEASIBLE THAT SOMETHING WITH ADVANCED TECHNOLOGY COULD MAKE SOLID FORM OF ELEMENT 115?
Well, only in the sense that our theories say now there is this enhanced region of stability. Hypothetically, if this story is true ­ or proved true and accepted by the heavy element science community ­ it would be probably be a form of Element 115 that had more neutrons than the ones we have created. I mean that's all I can say. If you are talking about Element 115 that's stable in the sense that you could hold it in your hand, that's what I would think ­ it would have to have more neutrons. What we know, what theory has predicted about the region, we would need to put in more neutrons to increase the life time or the half life of the activity to the point where it would be stable. I don't know that I would like to hold it in my hand, considering it would still be somewhat radioactive ­ but, maybe these things have half lives of maybe millions of years. I don't know. That part of the theory I don't know. Right now, for us and the community doing the production like we are doing with these experiments ­ we can only go so far.
With what we are seeing, we are seeing the possibility that everything we've created has very short life times. However, significantly longer than anything else around them, which is why we are calling it an island of stability. We're just on the shoals or the beach and getting closer and closer.
IF YOU HAD THE TECHNOLOGY TO ADD NEUTRONS TO WHAT YOU'VE ALREADY BEEN ABLE TO SEE IN THE COLLIDER, YOU MIGHT END UP WITH MATTER THAT WE KNOW WOULD BE STABLE ENOUGH TO SIT ON A TABLE?
I think the technology would have to be completely different. I think in our current experiments, even if you added more neutrons, you are still only going to produce a certain number of atoms ­ 10, 15, 20 or whatever. You need millions and millions and millions of these before you'd have something that ­ let alone could see or put in your hand to hold. So, I mention this along the lines that what we do, you wouldn't use what we do as a production method. It's purely an observational sense.
Also along those lines ­ if it is something that lives as long as I guess what you are saying, it's nothing we would see. We see the decay of these elements through their radioactive decay. And we can see them because they have such short life times, such short half lives. So during the course of an experiment, we expect a decay to occur. If they weren't radioactive and were stable, we would never see them. We only see the energy that is given off in their decay.
So, it's along those lines. If the lifetimes increase, it becomes increasingly more difficult to see them. That's something that will be corrected for and there are other ways to do these experiments where you are not relying on their radioactivity to see them, but you can separate them other ways in the chance of seeing them if they have longer half lives. That's when you start producing them in chemical experiments where you can tell by their chemistry if they are Element 115. That's in the future. That's not right now. And you definitely wouldn't use our particular method for doing what we've seen to produce anything like that.
From what you've told me in terms of handling it with your hand, you don't want to handle radioactivity with your hands. So if it's something that is stable where there is no concern about radioactivity ­ and this is just in general ­ you are not going to have radioactivity (to test), therefore you are going to have to use chemistry to identify ­ some chemical method to identify what you have. And that's only with massive quantities ­ something that is stable like that, that's when chemistry is involved.
AND HYPOTHETICALLY IF YOU WERE ABLE TO TAKE THE ELEMENT 115 THAT YOU HAVE BEEN ABLE TO PRODUCE IN THE COLLISION OF THE CALCIUM ION WITH THE AMERICIUM AND ADD MORE NEUTRONS TO IT, HYPOTHETICALLY IT COULD BECOME A STABLE NON-RADIOACTIVE PIECE OF MATTER, ELEMENT 115?
I don't know. That would be something for us to discover. I don't know enough about what the theory predicts for the region (on the Periodic Table) to say if that could happen. I don't know if the life times are long enough to get to the point that they are stable and not radioactive."
---
More Information:
Dr. Patin says that Elements 113 and 115 can now be added to the Periodic Table of Elements ­ and probably Element 116 which is the limit to what atomic physicists have seen so far. After that, he and his colleagues are going to experiment to see if they can find Element 118 ­ which will be the outer frontier of elements in human physics
But there is the nagging question: Are there other intelligences out there that are so beyond human knowledge and technology that they can use a special isotope of Element 115 - that is stable - to warp gravity, space and time so they can travel in quick jumps around the cosmos?
---
Website:
http://www-cmls.llnl.gov/?url=science_and_technology-chemistry-elements_113_and_115
http://www-cms.llnl.gov/e113_115/images.html