by Jason Kottke
February 07, 2019
from Kottke Website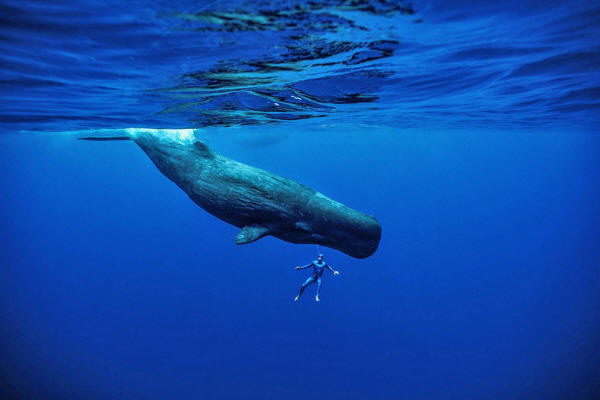 Dances with Whales - The Ethereal Underwater vistas of an elite Freediving Team

One Breath Around the World is the latest aquatic spectacle from the French freediving champion Guillaume Néry, and his partner, the French freediver, underwater filmmaker and dancer Julie Gautier.
Without the aid of supplied air, Néry plunges into the ocean's hidden depths, revealing remarkable views of marine geology and wildlife around the globe.
Seamlessly transitioning between a range of underwater realms (like Yonaguni, at the beginning of the video), the video gives the impression that Néry's journey is taken in a single breath.
With stunning camerawork by Gautier, who also held her breath while filming, the duo prove themselves expert explorers of not only water, but space and perspective as well, making these grand underwater landscapes appear almost alien.


I've followed the work of world champion free diver Guillaume Néry for several years now and this video might be his best one yet.
In it, he explores a bunch of different waterscapes, floating and diving and walking until you can't tell which way is up and if he's actually in water or in outer space.

Also of note is that the video was filmed by free diver Julie Gautier, who shot the entire thing while holding her breath, a more difficult task than Néry's. I'd like to see the making-of video for that!

Pro tip: remind yourself to breathe while you're watching this. I found myself unconsciously holding my breath, on and off, almost the entire time.

This great adventure was possible thanks to the support of a great team:
Julie Gautier, my wife. One more time she did an AMAZING work. Everything she is shooting with her camera become magic. Of course, she shot as usual all the images on breath hold!

Almo Film and his boss Morgan Le Faucheur for his support as co producer of the project during the post production process.

Ben Nardini, the multi task guy: Editing, Sound design and drone pilot!

Guillaume Ferran, the magician behind the original soundtrack

Arthur Paux, as usual, who made the beautiful color correction

Leonard Mercier added a great touch with the compositing and stabilization

Xavier Fulbert / Ideocast made the sound mix

Franck Seguin the fantastic photographer who made a book edited by Glenat