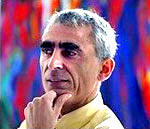 Dr. Michael E. Salla, is a pioneer in the development of exopolitics, the scholarly study of the main actors, institutions and processes associated with an extraterrestrial presence that is not acknowledged to the general public, elected officials or the mass media.
His interest in exopolitics evolved out of his investigation of the sources of international conflict and its relationship with the undisclosed extraterrestrial presence.
He cites evidence of as many as sixteen different extraterrestrial races currently interacting with humanity in a variety of ways, with a number of other races simply monitoring the Earth.
His groundbreaking Exopolitics: Political Implications of the Extraterrestrial Presence (Dandelion Books, 2004) is the first published book on 'Exopolitics', and presents the first scholarly framework for understanding the political implications of the extraterrestrial presence.

Salla is an internationally recognized scholar in international politics, conflict resolution and US foreign policy, and is the author/editor of an additional four books including:
The Hero's Journey Toward a Second American Century (Greenwood Press, 2002)

Essays on Peace (Central Queensland University Press, 1995)

Why the Cold War Ended (Greenwood Press, 1995)

Islamic Radicalism, Muslim Nations and the West (1993)
He has also authored more than seventy articles, chapters, and book reviews on peace, ethnic conflict and conflict resolution.
He has held academic appointments in:
the School of International Service& the Center for Global Peace, American University, Washington DC (1996-2004)

the Department of Political Science, Australian National University, Canberra, Australia (1994-96)

the Elliott School of International Affairs, George Washington University, Washington D.C., (2002)
He has a PhD in Government from the University of Queensland, Australia, and an MA in Philosophy from the University of Melbourne, Australia.
He has conducted research and fieldwork in the ethnic conflicts in East Timor, Kosovo, Macedonia, and Sri Lanka, and organized peacemaking initiatives involving mid to high level participants from these conflicts.

Salla has conducted extensive interviews for both his exopolitical research and international conflict on:
Coast to Coast Radio

The Jeff Rense Program

The Gary Null Show

The Hickman Report

Mysteries of the Mind

Voice of America, Television & Radio, Washington D.C.

ABC Radio, Washington D.C.

SBS (Radio), Melbourne, Australia

KSRO (Radio), Santa Rosa, CA.

ABC Online

Religion & Ethics NewsWeekly (TV) Washington D.C.

WTOP (Radio) Washington DC.

Hearst-Argyle Television, Washington, DC.

CBC (Canadian Broadcasting Comm., TV) News, Washington DC.

MSNBC (TV) News, Washington DC.

KRLA (Radio) Los Angeles

America's Voice (TV), Washington D.C, WMAL (Radio)

KDKA (Radio), Pittsburgh, BBC World Service, (Radio)

3ER (Radio), Melbourne, Australia

ABC TV, Canberra, Australia

2CN, ABC Radio, Canberra, Australia

2XX (Radio), Canberra, Australia
Websites:
Other Websites:
E-mails: