A short biography and bibliography of this KwaZulu-Natal author
Vusamazulu Credo Mutwa (1921 - ) was born in Natal.
His father was a former Catholic catechist from the Embo district near Inanda. His mother was the descendant of a long line of Zulu medicine-men and custodians of tribal lore and customs. His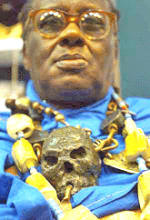 parents parted shortly after Vusamazulu's birth, because his mother refused to convert to Christianity.
Mutwa was educated by his maternal grandfather, a medicine-man, and carrying the bags for him, the boy learned some of the older man's secrets.

In 1928 Vusamazulu was taken to the Transvaal by his father. They lived on a farm near Potchefstroom, where his father was a labourer.
After twenty years of different farms the father found employment in one of the Johannesburg mines as a carpenter. Mutwa himself found employment in 1954 in a curio shop in Johannesburg and has been working there ever since.
When he visited his mother and grandfather in Zululand after thirty years of absence, he renounced Christianity at their command, and underwent the ceremony of purification, in order to begin training as a medicine-man.

He also prepared himself to assume the post of custodian of tribal lore and customs in the event of his grandfather's death.
Mutwa has written African tales which have their roots in oral, traditional Zulu culture.
Two well known collections of these stories are Indaba My Children (1966) and My People: writings of a Zulu Witchdoctor (1969).