Alfred Webre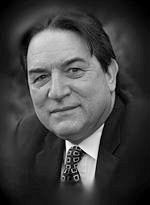 Alfred Webre is a space activist who works with others to prevent the weaponization of space and transform the permanent war economy into a peaceful, cooperative, democratic Space Age society, re-integrating with a larger, intelligent Universe society.

Alfred Webre is,
International Director of the Institute for Cooperation in Space (ICIS)

a founder of the No Weapons in Space Campaign (NOWIS), a Canadian coalition to prevent the weaponization of space

a participant in the Canadian Coalition to Oppose Missile Defence (CCOMD)

a Member of the Kuala Lumpur War Crimes Tribunal

an On-Air Host on Vancouver Coop Radio CFRO 102.7 FM .
a former Fulbright Scholar and graduate of Yale University, Yale Law School (Yale Law School National Scholar), and the University of Texas Counseling Program
Webre was General Counsel to the NYC Environmental Protection Administration and environmental consultant to the Ford Foundation, futurist at Stanford Research Institute, and author.
He has taught,
Economics at Yale University (Economics Department)

Civil Liberties at the University of Texas (Government Department)
Alfred Webre has been,
a delegate to the UNISPACE Outer Space Conference and NGO representative at the United Nations (Communications Coordination Committee for the UN; UN Second Special Session on Disarmament)

elected Clinton-Gore Delegate to the 1996 Texas Democratic Convention

a Member, Governor's Emergency Taskforce on Earthquake Preparedness, State of California (1980-82), appointed by Gov. Jerry Brown
Mr. Webre produced and hosted the Instant of Cooperation, the first live radio broadcast between USA and the then Soviet Union, carried live by Gosteleradio and NPR satellite in 1987.
He is tto,
a member of the District of Columbia Bar

a co-architect of the Space Preservation Act and the Space Preservation Treaty to ban space-based weapons
Books by Alfred Lambremont Webre include:
Exopolitics: A Decade of Contact (Universebooks, 2000)

Earth Changes: A Spiritual Approach, (Universebooks, 2000)

The Levesque Cases, (Ontario: PSP Books, 1990)

Recovery: A Personal Journey, (Universebooks, 2000)

The Age of Cataclysm, (New York: GP Putnam's Sons 1974); (New York: Berkeley Medallion 1975); (Capricorn Books, 1975); (Tokyo: Ugaku Sha 1975)
"As Senior Policy Analyst in 1977 at the Center for the Study of Social Policy at Stanford Research Institute (now "SRI International", Menlo Park, California), Alfred Webre was Principal Investigator for a proposed civilian scientific Study of extraterrestrial communication, i.e. interactive communication between the terrestrial human culture and that of possible intelligent non-terrestrial civilizations.

This proposed Study was presented to and developed with interested White House staff of the Domestic Policy staff of President Jimmy Carter during the period from May 1977 until the fall of 1977, when it was abruptly terminated.

"The over-all purpose of the proposed 1977 Carter White House Extraterrestrial Communication Study was to create, design and carry out an independent, civilian-led research compilation and evaluation of phenomena suggesting an Extraterrestrial and/or Inter-dimensional intelligent presence in the near-Earth environment.

"The designed outcome of the Study was to have been a public White House report, detailing the compiled evidence and evaluation, together with possible scientific models for the implications of the research. The White House report was to have contained public policy recommendations emerging from the evaluations and conclusions of the Study. These, if warranted, included transformation of secrecy regulations of U.S. military-intelligence agencies."

"The scientific and public policy goal of the proposed 1977 Carter White House Extraterrestrial Communication Study was to fill a substantial gap in civilian scientific knowledge of the UFO (Unidentified Flying Object phenomenon), Extraterrestrial Biological Entities (EBEs), and related phenomena.

This knowledge gap was created and maintained by excessive secrecy practices and regulations of U.S. Department of Defense and intelligence agencies in the various generations of its UFO-programs since the late 1940s, including but not limited to Project Grudge and Project Blue Book, as well as other alleged secret programs.
Information and Contact