About Philip Gardiner

Philip is married with two children and lives in the heart of Robin Hood country in England. He has a Masters Degree in Strategic Marketing and 9 diploma's ranging from Personnel Management through to Holistic Medicine and the craft of Etymology. Although he has been asked on numerous occasions to become 'a member' of several institutions, Philip has strictly refused on the grounds of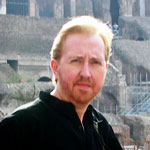 independence' seeing membership of certain organizations as being overtly influential on his research and understanding of the truths of mankind.
Philip believes that some authors/researchers have been lead into membership of institutions or 'societies' and are therefore of questionable authority. His background in the history of propaganda and the ancient and ongoing manipulation of mankind tell him that such things do indeed occur. He has however joined (upon being requested) a couple of what are known as secret societies in-order to find out what was happening inside' the conclusions of these journalistic forays appear in his books and he is no longer a member of any organization.

Before retiring to dedicate his time to researching and writing, Philip was a Marketing Director and owner of a company in the UK. Part of this role included giving lectures on the art and history of marketing and propaganda to various organizations including certain government bodies and companies.

In his book "The Shining Ones" he has set about proving a theory discovered regarding an ancient priesthood calling themselves The Shining Ones who have developed into the worlds most powerful secret society. Philip uses history, mythology, symbolism and his own expertise of propaganda to prove his theories.

Philip Gardiner is the best selling author of:
The Shining Ones: The world's most powerful secret society revealed

The Serpent Grail: The Truth Behind the Holy Grail, Elixir of Life and Philosopher's Stone

Gnosis: The Secret of Solomon's Temple Revealed.
Gardiner is a radio presenter, speaker and does tours through www.powerplaces.com
The authors websites are: