KV 61 (Unknown)
General Site Information
Structure: KV 61
Location: Valley of the Kings, East Valley, Thebes West Bank, Thebes
Owner: Unknown
Other designations:
Site type: Tomb

Description
KV 61 is located in the southwest wadi. The tomb is small and consists of a shaft and a single chamber. The tomb is unfinished and undecorated.

Noteworthy features:
The tomb was probably never used.

Site History
When discovered, a thorough clearing of the chamber was undertaken in hopes of finding a more elaborate structure behind the debris, or inscriptions that would give the name of the owner. No objects were found.

Dating
This site was used during the following period(s):
New Kingdom
History of Exploration
Jones, Ernest Harold (1910): Discovery (made for Theodore M. Davis)
Jones, Ernest Harold (1910): Excavation (conducted for Theodore M. Davis but no report published)

Conservation
- Conservation history: None
- Site condition: The cutting of the tomb was left unfinished.

.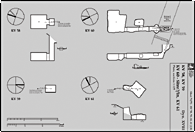 Axis in degrees: 117.04
Axis orientation: Southeast

Site Location
Latitude: 25.44 N
Longitude: 32.36 E
Elevation: 179.92 msl
North: 99,463.990
East: 94,035.351
JOG map reference: NG 36-10
Modern governorate: Qena (Qina)
Ancient nome: 4th Upper Egypt
Surveyed by TMP: Yes

Measurements
Maximum height: 1.71 m
Minimum width: 1.35 m
Maximum width: 3.3 m
Total length: 6.34 m
Total area: 15.49 m²
Total volume: 22.38 m³

Additional Tomb Information
Entrance location: Hillside
Owner type: Unknown, probably non-royal
Entrance type: Shaft
Interior layout: Chamber
Axis type: Straight