KV 60 (Sit-Ra, called In (?))
General Site Information
Structure: KV 60
Location: Valley of the Kings, East Valley, Thebes West Bank, Thebes
Owner: Sit-Ra, called In (?)
Other designations:
Site type: Tomb

Description
The tomb is located in the southeast branch off the southeast wadi, immediately beside the entrance of KV 19, south of KV 20, in the eastern cliffs of the Valley. It is a small, undecorated tomb, consisting of an entryway stairway (A), a corridor (B) with recesses and a side chamber (Ba), and a roughly-cut burial chamber (J).

Noteworthy features
An unidentified female mummy still rests in the tomb.

Site History
An inscription on one coffin bore the name and title, royal nurse, In. In has been thought by some to be Sit-Ra, called In, royal nurse of Hatshepsut. The mummy is now in the Egyptian Museum, Cairo. The other, still unidentified mummy remained in situ. Thomas suggested it might be the mummy of Hatshepsut, relocated by Thutmes III.

Dating
This site was used during the following period(s):
New Kingdom, Dynasty 18
History of Exploration
Carter, Howard (1903): Discovery (closed the tomb again after a brief examination and removal of some mummified geese)
Carter, Howard (1903): Excavation (conducted for Theodore M. Davis)
Ayrton, Edward Russell (1906): Excavation (removed the mummy of Sit-Ra)
Ryan, Donald P. (1989-1990): Excavation (conducted after re-locating tomb)

Conservation
- Conservation history: During Ryan's work on the tomb in 1989, a wooden box was built to hold one mummy, and a metal cover was set over the pit entrance.
- Site condition: The tomb was excavated by Carter and then closed again. It was relocated recently by Donald Ryan of Pacific Lutheran University.
.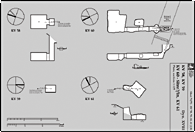 Axis in degrees: 25.92
Axis orientation: Northeast

Site Location
Latitude: 25.44 N
Longitude: 32.36 E
Elevation: 188.43 msl
North: 99,545.755
East: 94,277.777
JOG map reference: NG 36-10
Modern governorate: Qena (Qina)
Ancient nome: 4th Upper Egypt

Measurements
Maximum height: 1.92 m
Minimum width: 1 m
Maximum width: 6.57 m
Total length: 10.88 m
Total area: 41.16 m²
Total volume: 63.39 m³

Additional Tomb Information
Entrance location: Base of sheer cliff
Owner type: Official
Entrance type: Staircase
Interior layout: Corridor and chambers
Axis type: Straight

Decoration
Painting

Categories of Objects Recovered
Carpenters' and sculptors' tools
Human mummies
Jewellery
Lighting equipment
Mammal mummies
Mummy trappings
Scarabs and seals
Tomb equipment
Vessels
Written documents