KV 59 (Unknown)
General Site Information
Structure: KV 59
Location: Valley of the Kings, East Valley, Thebes West Bank, Thebes
Owner: Unknown
Other designations:
Site type: Tomb

Description
KV 59 is located in the south branch of the southwest wadi. This is a small pit tomb and no reference to its clearance or contents is known.

Site History
There is no information concerning the history, clearing or discovery of the tomb. The site may have been discovered by Carter. It was known to James Burton and Lefébure.

Dating
This site was used during the following period(s):
New Kingdom, Dynasty 18, Thutmes III (dated by location)
History of Exploration
Burton, James (1825): Mapping/planning
Lefébure, Eugène (1889): Mapping/planning
Carter, Howard (1921): Mapping/planning

Conservation
- Site condition: The tomb is inaccessible and filled with debris.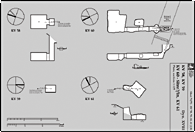 Axis orientation: North

Site Location
Latitude: 25.44 N
Longitude: 32.36 E
JOG map reference: NG 36-10
Modern governorate: Qena (Qina)
Ancient nome: 4th Upper Egypt

Measurements
Minimum width: 2.11 m
Maximum width: 2.11 m
Total length: 3.01 m
Total area: 6.4 m²

Additional Tomb Information
Entrance location: Base of sheer cliff
Entrance type: Shaft