KV 58 (Unknown)
General Site Information
Structure: KV 58
Location: Valley of the Kings, East Valley, Thebes West Bank, Thebes
Owner: Unknown
Other designations: Chariot Tomb
Site type: Tomb

Description
KV 58, located in the main wadi, consists of an entryway shaft (A) and a small, undecorated chamber (B) cut into the steep base of a hill near the floor of the branch wadi running up to KV 35. Most of the finds lay two meters down the shaft and in the chamber. Among these were a large amount of gold foil, knobs, and an uninscribed calcite shabti.

Noteworthy features
The tomb contained gold foil, which probably belonged to a chariot harness, bearing the names of Tutankhamen and Ay.

Site History
This tomb is of an uncertain date although some have thought it was associated as a dependency of KV 57. It appears to have been used as a secondary cache for burial equipment belonging to Ay, which perhaps was originally placed in KV 23. Some have theorized that this material was placed here in association with a possible reburial of Ay in nearby KV 57. Another theory is that it represents an abandoned robber's hoard of material taken from KV 23.

Dating
This site was used during the following period(s):
New Kingdom, Dynasty 18
History of Exploration
Jones, Ernest Harold (1909): Discovery (made for Theodore M. Davis, who mistakenly credited Edward Russell Ayrton with the discovery in 1907)
Jones, Ernest Harold (1909): Excavation

Conservation
- Site condition: Entryway A is filled with rubble, blocking access to chamber B.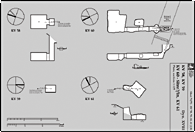 Axis in degrees: 341.60
Axis orientation: North

Site Location
Latitude: 25.44 N
Longitude: 32.36 E
JOG map reference: NG 36-10
Modern governorate: Qena (Qina)
Ancient nome: 4th Upper Egypt

Measurements
Maximum height: 2.36 m
Minimum width: 1.49 m
Maximum width: 4.05 m
Total length: 7.04 m
Total area: 23.67 m²
Total volume: 48.86 m³

Additional Tomb Information
Entrance location: Base of sloping hill
Entrance type: Shaft
Interior layout: Chamber
Axis type: Straight

Categories of Objects Recovered
Accessories
Furniture
Tomb equipment
Transport