KV 57 (Horemheb)
General Site Information
Structure: KV 57
Location: Valley of the Kings, East Valley, Thebes West Bank, Thebes
Owner: Horemheb
Other designations:
Site type: Tomb

Description
KV 57 is located in the west branch of the southwest wadi. The tomb's opening, just above the Valley's ancient floor, is low in the south side of a hill that projects eastward into the central wadi from the cliff face where KV 35 (Amenhetep II) is cut. Three sloping corridors (B, C, D) lead to a well chamber (E) and a pillared chamber (F). A side descent and two sloping corridors (G and H) lead to chamber I giving access to the burial chamber J. This has side chambers (Ja-Je), also with side chambers (Jaa, Jbb, Jcc, Jccc). The tomb represents a transition in tomb architecture from the bent axis plan, characteristic of Dynasty 18, to the straight axis royal tombs of Dynasties 19 and 20.

The decoration is composed of representations of deities (well chamber E, chamber I, gate J, side chamber Jb), Horemheb with deities (well chamber E, chamber I), and scenes from the Book of Gates (burial chamber J).

Noteworthy features
This tomb descends with the steepness of earlier tombs in the Valley of the Kings, but several unique features were added. A ramp descending to a set of stairs was cut between the pillars of the burial chamber J; a second set of stairs was cut beside the first. Both lead to a crypt on a lower level. Also, a lower side chamber (Jaa) was cut beneath side chamber Ja. The decoration in the burial chamber and other parts of the tomb was left in various stages of work, allowing scholars to study the processes involved in preparing painted relief. KV 57 is the first tomb to show the Book of Gates.

Site History
No remains of Horemheb were found, but evidence exists that the tomb was at one time sealed, at least from gate F onwards. The broken lid of the sarcophagus found lying on the floor, as well as the shattered condition of the canopic chest and other burial furnishings, suggest that the burial was robbed. Several hieratic inspection dockets from Dynasty 21 may record temporary caching of burials here before they subsequently were removed, perhaps to KV 35.

Dating
This site was used during the following period(s):
New Kingdom, Dynasty 18, Horemheb
Third Intermediate Period, Dynasty 21
History of Exploration
Ayrton, Edward Russell (1908): Discovery (made for Theodore M. Davis)
Ayrton, Edward Russell (1908): Excavation (conducted for Theodore M. Davis)
Davis, Theodore M. (1912): Mapping/planning
Burton, Harry (1923): Photography (for the Metropolitan Museum of Art)
Service des Antiquités (1934): Conservation
Hornung, Erik (1971): Photography (shot in color)
Supreme Council of Antiquities (1994-): Conservation

Conservation
- Conservation history: In 1934, the Service des Antiquités carried out some restoration work in chamber I. Following the closure of the tomb after the 1994 flooding, conservation work has been carried out (particularly in rooms E, I, and J) and walkways and lighting were installed.

- Site condition: Significant portions of the painted decoration and blue background have flaked off the walls in well chamber E and chamber I. When discovered, much damage had already happened to the pillars and ceiling of the burial chamber. The blocking of the doorway in the north (rear) wall of well chamber E had been broken through in antiquity, resulting in damage to some of the painted scene that covered it. Damage to the decoration around gates I and J also occurred. This damage has since been repaired.

Flooding in the Valley in October and November 1994 caused water to enter the tomb and although much was caught in the shaft of well chamber E, some water seeped across the bridge over the shaft and entered the lower chambers.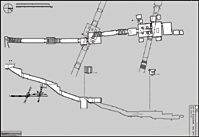 Axis in degrees: 357.72
Axis orientation: North

Site Location
Latitude: 25.44 N
Longitude: 32.36 E
Elevation: 173.242 msl
North: 99,518.773
East: 94,026.915
JOG map reference: NG 36-10
Modern governorate: Qena (Qina)
Ancient nome: 4th Upper Egypt
Surveyed by TMP: Yes

Measurements
Maximum height: 5.36 m
Minimum width: 0.66 m
Maximum width: 8.94 m
Total length: 127.88 m
Total area: 472.61 m²
Total volume: 1328.17 m³

Additional Tomb Information
Entrance location: Base of sloping hill
Owner type: King
Entrance type: Staircase
Interior layout: Corridors and chambers
Axis type: Straight

Decoration
Graffiti
Painting
Raised relief

Categories of Objects Recovered
Embalming equipment
Furniture
Human remains
Jewellery
Models
Sculpture
Tomb equipment
Vegetal remains