KV 56 (Unknown)
General Site Information
Structure: KV 56
Location: Valley of the Kings, East Valley, Thebes West Bank, Thebes
Owner: Unknown
Other designations: Gold Tomb
Site type: Tomb

Description
KV 56 is located in the main wadi. It consists of a deep shaft entryway (A) leading to a large, undecorated and unfinished chamber (B). It contained objects bearing the names of Rameses II, Sety II, as well as Tausert.

Noteworthy features
A large amount of gold jewellery was discovered in the tomb.

Site History
The identity of the original owner of this tomb is unknown, if indeed KV 56 is a tomb at all. Since most of the objects found inside bear the names of Tausert and Sety II (as well as Rameses II), Maspero believed that all the materials found in KV 56 were taken from KV 14, the tomb of Tausert, which was usurped by Setnakht. Aldred, on the other hand, argued that KV 56 was not a cache, but rather an essentially intact burial of a child of Sety II and Tausert. He based his theory on the fact that near the left (west) wall of chamber B were remains of stucco, gold leaves and inlays, which could be from a coffin.

Dating
This site was used during the following period(s):
New Kingdom, Dynasty 19, Tausert
History of Exploration
Ayrton, Edward Russell (1908): Discovery (made for Theodore M. Davis)
Ayrton, Edward Russell (1908): Excavation (conducted for Theodore M. Davis)
Amarna Royal Tombs Project (1999-2002): Excavation

Conservation
- Site condition: The tomb has been recently re-excavated by the Amarna Royal Tombs Project.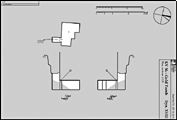 Axis in degrees: 347.48
Axis orientation: North

Site Location
Latitude: 25.44 N
Longitude: 32.36 E
Elevation: 175.39 msl
North: 99,538.986
East: 94,045.241
JOG map reference: NG 36-10
Modern governorate: Qena (Qina)
Ancient nome: 4th Upper Egypt
Surveyed by TMP: Yes

Measurements
Maximum height: 3.13 m
Minimum width: 1.39 m
Maximum width: 7.59 m
Total length: 7.34 m
Total area: 39.25 m²
Total volume: 109.67 m³

Additional Tomb Information
Entrance location: Base of sloping hill
Owner type: Unknown, possibly royal
Entrance type: Shaft
Interior layout: Chamber
Axis type: Straight

Categories of Objects Recovered
Jewellery
Tomb equipment (Gold leaf and stucco probably of coffin)
Vessels