KV 55 (Tiye (?) or Akhenaten (?))
General Site Information
Structure: KV 55
Location: Valley of the Kings, East Valley, Thebes West Bank, Thebes
Owner: Tiye (?) or Akhenaten (?)
Other designations:
Site type: Tomb

Description
The entrance to KV 55 is cut into the floor of the main valley between the resthouse and the tomb of Rameses IX (KV 6). This tomb is composed of an entryway (A) followed by a single corridor (B) leading directly into burial chamber J and its side chamber Ja. KV 55 was probably excavated at the same time as KV 46 and 62.

An ostracon painted with what may be part of the original tomb plan was found in KV 55 in 1993 when the tomb was cleared by Lyla Pinch Brock. It may show indications of the widening of the entrance, a feature also suggested by mason's marks on the wall near the tomb entrance. Marks on the walls indicate that, after the entrance and stairs were cut, the entrance was enlarged, the ceiling raised, and the number of stairs increased. The walls and ceiling in the burial chamber were plastered but undecorated.

Objects found in KV 55 date from the time of Amenhetep III to the reign of Tutankhamen.

Noteworthy features
This appears to be a cache of burial equipment and human remains from the Amarna royal necropolis.

Site History
The tomb may originally have contained a number of burials brought from Amarna and later redistributed in other tombs. The mummy of Queen Tiye, for instance, may have been placed in KV 55 and later in the Amenhetep II cache (KV 35).

KV 55 was originally sealed with blocks of limestone plastered with mortar and stamped with the seal of the necropolis. When this was broken through, rubble fill was inserted in the corridor. An attempt seems to have been made to remove the remaining burial equipment sometime after this event. It was resealed with rough blocking, perhaps during Dynasty 20, as were other tombs in the area, but this blocking did not remain in place. It appears that when the tomb for Rameses IX (KV 6) was cut just north of KV 55, debris was dumped over the entrance to KV 55. Analyses of the assortment of objects found in the tomb have contributed to several theories concerning the use and owner of KV 55. It is now generally believed that the mummy found inside the tomb was Amenhetep IV/Akhenaten.

Dating
This site was used during the following period(s):
New Kingdom, Dynasty 18, Amenhetep IV/Akhenaten (reburial under Tutankhamen)
New Kingdom, Dynasty 20
History of Exploration
Ayrton, Edward Russell (1907): Discovery (made for Theodore M. Davis)
Ayrton, Edward Russell (1907-1908): Excavation (conducted for Theodore M. Davis)
Brock, Lyla Pinch (1992-1993): Excavation

Conservation
- Conservation history: By 1908, all the objects had been taken from the tomb and the entrance was protected by a steel door. This later disappeared, to be replaced by a stone blocking, which, by 1944, had collapsed. The entrance of the tomb then began to fill with debris. In 1993, Lyla Pinch Brock cleared the tomb, and in 1996 repaired the plaster in the burial chamber and recemented the broken stairs.
- Site condition: Stains on the walls and ceiling of corridor B show that water infiltrated the tomb in antiquity.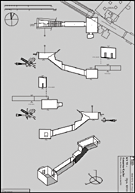 Axis in degrees: 92.25
Axis orientation: East

Site Location
Latitude: 25.44 N
Longitude: 32.36 E
Elevation: 171.23 msl
North: 99,597.776
East: 94,079.536
JOG map reference: NG 36-10
Modern governorate: Qena (Qina)
Ancient nome: 4th Upper Egypt
Surveyed by TMP: Yes

Measurements
Maximum height: 3.93 m
Minimum width: 1.34 m
Maximum width: 6.63 m
Total length: 27.61 m
Total area: 84.3 m²
Total volume: 185.25 m³

Additional Tomb Information
Entrance location: Valley floor
Owner type: Unknown, possibly royal
Entrance type: Staircase
Interior layout: Corridor and chambers
Axis type: Straight

Categories of Objects Recovered
Accessories
Carpenters' and sculptors' tools
Furniture
Human mummies
Jewellery
Models
Scarabs and seals
Sculpture
Tomb equipment
Vessel stands
Vessels
Warfare and hunting equipment
Written documents