KV 54 (Tutankhamen cache)
General Site Information
Structure: KV 54
Location: Valley of the Kings, East Valley, Thebes West Bank, Thebes
Owner: Tutankhamen cache
Other designations:
Site type: Tomb

Description
This cache is located in the southeast wadi. KV 54 is a small pit, perhaps an unfinished shaft cutting, that was reused after the reign of Tutankhamen as a storeroom for his funerary equipment.

Noteworthy features
This tomb is unique in that it was a cache containing embalming material and elements of a funerary meal.

Site History
Soon after the burial of King Tutankhamen, his tomb (KV 62) was robbed at least twice. After it was first robbed, objects found in the entrance corridor were removed and reburied in KV 54. The entrance of KV 62 was then filled up with limestone chippings and resealed.

Dating
This site was used during the following period(s):
New Kingdom, Dynasty 18, Tutankhamen
History of Exploration
Ayrton, Edward Russell (1907): Discovery (made for Theodore M. Davis)
Ayrton, Edward Russell (1907-1908): Excavation (conducted for Theodore M. Davis)
MISR Project: Mission Siptah-Ramses X (1999-2000): Excavation

Conservation
- Site condition: The shaft has been recleared recently by the MISR Project.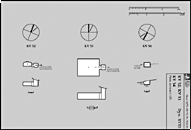 Axis in degrees: 241.69
Axis orientation: Southwest

Site Location
Latitude: 25.44 N
Longitude: 32.36 E
Elevation: 185.886 msl
North: 99,549.147
East: 94,175.092
JOG map reference: NG 36-10
Modern governorate: Qena (Qina)
Ancient nome: 4th Upper Egypt
Surveyed by TMP: Yes

Measurements
Minimum width: 1.17 m
Maximum width: 1.17 m
Total length: 1.69 m
Total area: 2 m²

Additional Tomb Information
Entrance location: Hillside
Owner type: Cache
Entrance type: Shaft
Interior layout: Shaft
Axis type: Straight

Categories of Objects Recovered
Domestic equipment
Mammal remains
Mummy trappings
Natural compounds
Scarabs and seals
Tomb equipment
Vegetal remains
Vessel stands
Vessels