KV 52 (Unknown)
General Site Information
Structure: KV 52
Location: Valley of the Kings, East Valley, Thebes West Bank, Thebes
Owner: Unknown
Other designations: Animal Tomb
Site type: Tomb

Description
KV 52 is located in the west branch of the southwest wadi. This small tomb consists of a shallow square entryway shaft (A) and a single chamber (B). The tomb is undecorated, but contained animal mummies.

Site History
KV 52 is one of a group of three adjacent tombs referred to as the "Animal Tombs." The two others are KV 50 and KV 51. The tombs are said to have belonged to pets of the king, perhaps of Amenhetep II, because of the proximity of his tomb (KV 35). But this theory cannot be verified. The tomb was robbed in antiquity.

Dating
This site was used during the following period(s):
New Kingdom, Dynasty 18 (perhaps the reign of Amenhetep II)
History of Exploration
Ayrton, Edward Russell (1906): Discovery (made for Theodore M. Davis)
Ayrton, Edward Russell (1906): Excavation (conducted for Theodore M. Davis)

Conservation
- Site condition: The tomb is inaccessible and filled with debris.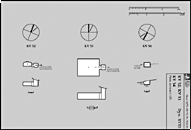 Axis in degrees: 246.84
Axis orientation: Southwest

Site Location
Latitude: 25.44 N
Longitude: 32.36 E
JOG map reference: NG 36-10
Modern governorate: Qena (Qina)
Ancient nome: 4th Upper Egypt

Measurements
Maximum height: 1.26 m
Minimum width: 0.81 m
Maximum width: 1.37 m
Total length: 4.5 m
Total area: 5.25 m²
Total volume: 4.3 m³

Additional Tomb Information
Entrance location: Hillside
Owner type: Animal
Entrance type: Shaft
Interior layout: Chamber
Axis type: Straight

Categories of Objects Recovered
Mammal mummies
Mummy trappings
Tomb equipment