KV 49 (Unknown)
General Site Information
Structure: KV 49
Location: Valley of the Kings, East Valley, Thebes West Bank, Thebes
Owner: Unknown
Other designations:
Site type: Tomb

Description
KV 49 is located in the west branch off the southwest wadi. An entrance stairway (A) leads down to a gate (B) leading into a long, sloping corridor (B). This opens into a large, rectangular chamber (C). An unfinished descent (C) in this chamber indicates that the cutting of the tomb was never completed. The tomb was left undecorated.

Site History
Gate C shows evidence of having been blocked, perhaps indicating that the tomb was used as a burial place. Two graffitti written over gate B show that the tomb was accessible in the late New Kingdom. The texts deal with the provisioning of a burial and indicate that the tomb was used in the later New Kingdom to store rags.

Dating
This site was used during the following period(s):
New Kingdom, Dynasty 18

History of Exploration
Ayrton, Edward Russell (1906): Discovery (made for Theodore M. Davis)
Ayrton, Edward Russell (1906): Excavation (conducted for Theodore M. Davis)

Conservation
- Conservation history: A rubble and cement wall has been constructed around the entrance by the Supreme Council of Antiquities to divert flood water.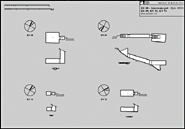 Axis in degrees: 240.33
Axis orientation: Southwest

Site Location
Latitude: 25.44 N
Longitude: 32.36 E
Elevation: 179.66 msl
North: 99,507.201
East: 94,019.106
JOG map reference: NG 36-10
Modern governorate: Qena (Qina)
Ancient nome: 4th Upper Egypt
Surveyed by TMP: Yes

Measurements
Maximum height: 2.24 m
Minimum width: 1 m
Maximum width: 3.5 m
Total length: 24.14 m
Total area: 46.61 m²
Total volume: 69.72 m³

Additional Tomb Information
Entrance location: Hillside
Owner type: Unknown, probably non-royal
Entrance type: Staircase
Interior layout: Corridors and chamber
Axis type: Straight

Decoration
Graffiti

Categories of Objects Recovered
Carpenters' and sculptors' tools
Game components
Mummy trappings
Tomb equipment
Vessels
Written documents