KV 48 (Amenemipet)
General Site Information
Structure: KV 48
Location: Valley of the Kings, East Valley, Thebes West Bank, Thebes
Owner: Amenemipet
Other designations:
Site type: Tomb

Description
KV 48 is located in the west branch off the southwest wadi. The tomb consists of a deep shaft (A) and a single chamber (B). The tomb was found undecorated.

Site History
The tomb belonged to Amenemipet, also known as Pairy, brother of Sennefer and Vizier and Governor of the Town under Amenhetep II. The evidence for this includes several inscribed shabtis. The fact that his tomb is located in the vicinity of KV 35 indicates that Amenemipet enjoyed the favor of Amenhetep II. The tomb was robbed during antiquity. Amenemipet is also the owner of TT 29 in Shaykh Abd al Qurna.

Dating
This site was used during the following period(s):
New Kingdom, Dynasty 18, Amenhetep II
History of Exploration
Ayrton, Edward Russell (1906): Discovery (made for Theodore M. Davis)
Ayrton, Edward Russell (1906): Excavation (conducted for Theodore M. Davis)
Theban Mapping Project (1986): Conservation (built wall around tomb for flood protection)

Conservation
- Conservation history: The Theban Mapping Project built a small stone wall around the tomb entrance to protect it from flood waters.
- Site condition: The tomb is inaccessible.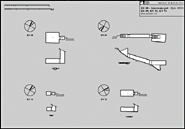 Axis in degrees: 244.13
Axis orientation: Southwest

Site Location
Latitude: 25.44 N
Longitude: 32.36 E
JOG map reference: NG 36-10
Modern governorate: Qena (Qina)
Ancient nome: 4th Upper Egypt

Measurements
Maximum height: 2.02 m
Minimum width: 0.93 m
Maximum width: 4.69 m
Total length: 8.43 m
Total area: 31.02 m²
Total volume: 57.49 m³

Additional Tomb Information
Entrance location: Hillside
Owner type: Official
Entrance type: Shaft
Interior layout: Chamber
Axis type: Straight

Categories of Objects Recovered
Architectural elements
Furniture
Human mummies
Scarabs and seals
Tomb equipment
Vessels