KV 46 (Yuya and Thuyu)
General Site Information
Structure: KV 46
Location: Valley of the Kings, East Valley, Thebes West Bank, Thebes
Owner: Yuya and Thuyu
Other designations:
Site type: Tomb

Description
KV 46 is located in the southeast branch of the main wadi. The tomb consists of a staircase entryway (A), a corridor (B) leading to a stepped descent (C), and a burial chamber (J). The walls of the tomb were neither smoothed, plastered nor decorated.

Noteworthy features
This non-royal tomb was found with much of its burial equipment intact.

Site History
KV 46 belonged to Yuya and Thuyu, parents of Tiy, wife of Amenhetep III. According to differences in embalming techniques, Yuya and Thuyu died at different times. It has been suggested that three tomb robberies took place. The first occurred shortly after the official closure of the tomb, since perishable products, like ointments, were removed, and seals of containers were removed in order to inspect their contents.

A second and third robbery may have taken place during the excavation of KV 3 and KV 4, based on the evidence of sealings that were found. The entrance of the tomb was filled with debris from these two tombs. The tomb was thereafter inaccessible until 1905 when Quibell discovered it.

Dating
This site was used during the following period(s):
New Kingdom, Dynasty 18, Amenhetep III
History of Exploration
Quibell, James Edward (1905): Discovery (made for Theodore M. Davis)
Quibell, James Edward (1905): Excavation (conducted for Theodore M. Davis)

Conservation
- Conservation history: A metal gate has been installed in gate B and a rubble retaining wall has been constructed around the top of the entrance stairs.
- Site condition: The walls of the tomb are rough and no plaster or decoration was applied to their surface.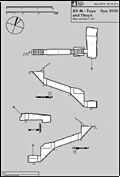 Axis in degrees: 70.62
Axis orientation: East

Site Location
Latitude: 25.44 N
Longitude: 32.36 E
Elevation: 167.608 msl
North: 99,686.458
East: 94,153.062
JOG map reference: NG 36-10
Modern governorate: Qena (Qina)
Ancient nome: 4th Upper Egypt
Surveyed by TMP: Yes

Measurements
Maximum height: 4.51 m
Minimum width: 1.25 m
Maximum width: 10.02 m
Total length: 21.31 m
Total area: 62.36 m²
Total volume: 135.63 m³

Additional Tomb Information
Entrance location: Base of sloping hill
Owner type: Official
Entrance type: Staircase
Interior layout: Corridors and chamber
Axis type: Bent

Categories of Objects Recovered
Accessories
Clothing
Cosmetic equipment
Furniture
Human mummies
Jewellery
Models
Mummy trappings
Musical instruments
Scarabs and seals
Sculpture
Tomb equipment
Transport
Vessels
Warfare and hunting equipment
Writing equipment
Written documents