KV 45 (Userhat)
General Site Information
Structure: KV 45
Location: Valley of the Kings, East Valley, Thebes West Bank, Thebes
Owner: Userhat
Other designations:
Site type: Tomb

Description
KV 45 is located in the southeast branch of the main wadi, close to KV 44. The well-cut tomb consists of a shaft (A) and a small chamber (B). The tomb was found undecorated.

Site History
The tomb belonged to Userhat, Overseer of the Fields of Amen. It was reused during Dynasty 22. When Carter discovered the tomb, approximately one-third was filled with debris and badly damaged by flooding. Carter wrote that it was impossible to remove the two mummies of Dynasty 22. He did rescue a part of the mummy case of a man, a scarab, and Dynasty 18 fragments of canopic jars, belonging to Userhat. Recently, Donald Ryan recleared the tomb.

Dating
This site was used during the following period(s):
New Kingdom, Dynasty 18, Thutmes IV (or early during the reign of Amenhetep III)
Third Intermediate Period, Dynasty 22, Osorkon I
History of Exploration
Carter, Howard (1902): Discovery (made for Theodore M. Davis)
Carter, Howard (1902): Excavation (conducted for Theodore M. Davis)
Ryan, Donald P. (1992): Excavation

Conservation
- Conservation history: A metal grate has been placed over the shaft opening and a low rubble wall constructed around it to divert flood water.
- Site condition: The tomb was cleared recently by Donald Ryan of Pacific Lutheran University.
.
.
.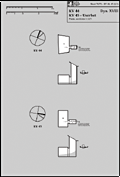 Axis in degrees: 170.72
Axis orientation: South

Site Location
Latitude: 25.44 N
Longitude: 32.36 E
JOG map reference: NG 36-10
Modern governorate: Qena (Qina)
Ancient nome: 4th Upper Egypt

Measurements
Minimum width: 0.91 m
Maximum width: 5.36 m
Total length: 5.8 m
Total area: 20.09 m²

Additional Tomb Information
Entrance location: Hillside
Owner type: Official
Entrance type: Shaft
Interior layout: Chamber
Axis type: Straight

Categories of Objects Recovered
Human mummies
Human remains
Jewellery
Tomb equipment
Vegetal remains
Vessels