KV 44 (Unknown)
General Site Information
Structure: KV 44
Location: Valley of the Kings, East Valley, Thebes West Bank, Thebes
Owner: Unknown
Other designations:
Site type: Tomb

Description
KV 44 is located in the southeast branch of the main wadi, close to KV 45. The tomb consists of a shaft entryway (A) and a single chamber (B). It was found undecorated.

Site History
The funerary furniture of the original owner of the tomb was robbed and according to Carter, only "rubbish" remained inside the tomb. The tomb lay open for some time, as the presence of several bees' nests indicate. The identity of the owner is unknown. On the basis of topography and the possibility of a Kings' Valley burial for him, Thomas suggested that Anen, a son of Yuya and Thuyu, and possibly Anen's wife, were buried in the tomb. But there is no foundation for this, and Anen has his own tomb (TT 120) in Shaykh Abd al Qurna.

The tomb was re-used during Dynasty 22 for Tentkerer, Lady of the House under Osorkon I, Heiufaa, and a songstress of Amen.

While reclearing KV 44, Ryan discovered remains of seven individuals, probably of the first interment.

Dating
This site was used during the following period(s):
New Kingdom, Dynasty 18
Third Intermediate Period, Dynasty 22, Osorkon I
History of Exploration
Carter, Howard (1901): Discovery (made for Theodore M. Davis)
Carter, Howard (1901): Excavation (conducted for Theodore M. Davis)
Ryan, Donald P. (1990-1991): Excavation

Conservation
- Conservation history: A metal grid was placed over the entrance shaft and a low rubble wall constructed around the opening to divert flood water.
- Site condition: The tomb was cleared recently by Donald Ryan of Pacific Lutheran University.
.
.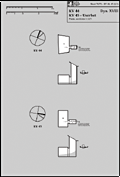 Axis in degrees: 248.14
Axis orientation: West

Site Location
Latitude: 25.44 N
Longitude: 32.36 E
JOG map reference: NG 36-10
Modern governorate: Qena (Qina)
Ancient nome: 4th Upper Egypt

Measurements
Minimum width: 0.75 m
Maximum width: 5.65 m
Total length: 6 m
Total area: 22.59 m²

Additional Tomb Information
Entrance location: Hillside
Owner type: Unknown, probably non-royal
Entrance type: Shaft
Interior layout: Chamber
Axis type: Straight

Categories of Objects Recovered
Human mummies
Jewellery
Tomb equipment
Vegetal remains
Vessels