KV 43 (Thutmes IV)
General Site Information
Structure: KV 43
Location: Valley of the Kings, East Valley, Thebes West Bank, Thebes
Owner: Thutmes IV
Other designations:
Site type: Tomb

Description
The entrance to KV 43 lies in the south branch of the southeast wadi, high in the mountainside above and southeast of KV 19. Similar in plan to KV 35 (Amenhetep II), the first three corridors (B, C, D), the well chamber E and side chamber Ea follow a north-south axis. The side chamber Ea off the bottom of the shaft in well chamber E lies partly beneath pillared chamber F. At the latter chamber, the tomb axis turns ninety degrees to the left (east) and continues on a west-east axis to chamber I, after which it again turns ninety degrees to the left (north) to a south-north axis, giving access to burial chamber J and side chambers Ja-Jd. The tomb is decorated with representations of the king with various deities in well chamber E and chamber I.

Noteworthy features
Graffiti in chamber I record the inspection and restoration of the tomb during the reign of Horemheb.

Site History
Hieratic graffiti in chamber I inform us that the tomb was entered during regnal year 8 of Horemheb for a renewal of the burial. After the removal of the mummy of Thutmes IV to KV 35 in Dynasty 21, the tomb was sealed with roughly-cut stones, covered by flood debris, and forgotten until its discovery by Carter in 1903.

Dating
This site was used during the following period(s):
New Kingdom, Dynasty 18, Thutmes IV
New Kingdom, Dynasty 18, Horemheb (inspection in regnal year 8)
Third Intermediate Period, Dynasty 21
History of Exploration
Carter, Howard (1903): Discovery (made for Theodore M. Davis)
Carter, Howard (1903): Excavation (conducted for Theodore M. Davis)
Carter, Howard (1904): Epigraphy (conducted for Theodore M. Davis)

Conservation
- Conservation history: Glass panels have been placed in front of the decorated walls in chamber I. In some areas here the painted plaster has cracked, particularly on the north (left) wall. At some time during the last twenty years of the twentieth century, an illegal attempt was made to remove the head of one of the figures of Hathor on the east (rear) wall. Access to side chamber Jb, where mummified meat offerings still remain, has been blocked by a rubble wall.
- Site condition: KV 43 has not suffered floodwater damage, and its painted decoration is well preserved.
.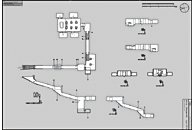 Axis in degrees: 196.92
Axis orientation: South

Site Location
Latitude: 25.44 N
Longitude: 32.36 E
Elevation: 201.562 msl
North: 99,509.211
East: 94,300.750
JOG map reference: NG 36-10
Modern governorate: Qena (Qina)
Ancient nome: 4th Upper Egypt
Surveyed by TMP: Yes

Measurements
Maximum height: 5.32 m
Minimum width: 0.89 m
Maximum width: 10.26 m
Total length: 105.73 m
Total area: 407.7 m²
Total volume: 1062.36 m³

Additional Tomb Information
Entrance location: Base of sheer cliff
Owner type: King
Entrance type: Staircase
Interior layout: Corridors and chambers
Axis type: Bent

Decoration
Graffiti
Painting

Categories of Objects Recovered
Accessories
Architectural elements
Bird remains
Clothing
Cosmetic equipment
Food
Furniture
Game components
Human mummies
Jewellery
Models
Scarabs and seals
Sculpture
Tomb equipment
Transport
Vessels
Warfare and hunting equipment