KV 42 (Hatshepsut-Meryet-Ra)
General Site Information
Structure: KV 42
Location: Valley of the Kings, East Valley, Thebes West Bank, Thebes
Owner: Hatshepsut-Meryet-Ra
Other designations:
Site type: Tomb

Description
KV 42 is located in the south branch of the southwest wadi. A steep stepped entryway (A), a steep corridor (B), and a stairwell (C) lead down to a chamber (F) where the axis turns ninety degrees to the left (east). Another corridor (G) leads to the cartouche-shaped, pillared burial chamber J, which is flanked by a side chamber (Ja). Except for an unfinished star pattern and a kheker-frieze in burial chamber J, the tomb is undecorated.

Noteworthy features:
The cartouche-shaped burial chamber is noteworthy.

Site History
Since the discovery of the foundation deposits bearing the name of Hatshepsut-Meryet-Ra in 1921, there is no doubt concerning the original owner of KV 42. The tomb was not finished or used by the queen, the wife of Thutmes III. Instead, she might have been buried in KV 35, the tomb of her son, Amenhetep II. KV 42 may have been reused by Sennefer, mayor of Thebes, Senetnay, his wife, and Baketra, the "king's adornment," during the reign of Amenhetep II or used as a cache for materials from their burials elsewhere. The tomb was plundered in antiquity.

Dating
This site was used during the following period(s):
New Kingdom, Dynasty 18, Thutmes III
History of Exploration
Loret, Victor (1899): Discovery
Andraos, Boutros (1900): Excavation
Carter, Howard (1900): Excavation
Macarios, C. (1900): Excavation
Carter, Howard (1921): Excavation (discovery of foundation deposits)
Supreme Council of Antiquities (1999): Conservation
Supreme Council of Antiquities (1999): Excavation

Conservation
- Conservation history: The tomb has been cleared recently by the Supreme Council of Antiquities.
- Site condition: KV 42 has suffered from flood damage. Burial chamber J contains two pillars: the rear (west) one is damaged and the front (east) one is broken.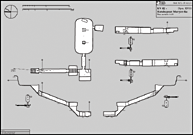 Axis in degrees: 178.08
Axis orientation: South

Site Location
Latitude: 25.44 N
Longitude: 32.36 E
Elevation: 189.17 msl
North: 99,347.618
East: 94,092.171
JOG map reference: NG 36-10
Modern governorate: Qena (Qina)
Ancient nome: 4th Upper Egypt
Surveyed by TMP: Yes

Measurements
Maximum height: 4.32 m
Minimum width: 0.86 m
Maximum width: 7.61 m
Total length: 58.18 m
Total area: 184.77 m²
Total volume: 423.6 m³

Additional Tomb Information
Entrance location: Base of sheer cliff
Owner type: Queen
Entrance type: Staircase
Interior layout: Corridors and chambers
Axis type: Bent

Decoration
Graffiti
Painting

Categories of Objects Recovered
Architectural elements
Religious objects
Tomb equipment
Transport
Vessels