KV 38 (Thutmes I)
General Site Information
Structure: KV 38
Location: Valley of the Kings, East Valley, Thebes West Bank, Thebes
Owner: Thutmes I
Other designations:
Site type: Tomb

Description
The tomb lies at the bottom of Al Qurn, in the southwest branch of the southwest wadi, where it is flanked by the tombs of Tausert and Setnakht (KV 14) and Sety II (KV 15). The plan of the tomb is simple, consisting of a steep corridor (B) which opens into a small, unevenly cut chamber (C). A steep descent (C) leads down from the center of this chamber to the burial chamber J, which is provided with a single side chamber (Ja) off its left (south) wall. The tomb is poorly cut, and water penetration has further contributed to the tomb's rough appearance. Only in the burial chamber are there traces of decoration.

Noteworthy features:
The cartouche-shaped burial chamber is noteworthy.

Site History
At one time it was believed that KV 38 was the original tomb of Thutmes I, for which the official Ineni (owner of TT 81) claimed sole responsibility. This was based, in part, on the relatively small size and simple plan of the tomb, considered an early phase in the development of New Kingdom royal tomb architecture.

According to this reconstruction, Hatshepsut had her father reburied in KV 20 in a stone sarcophagus originally made for her but reworked for Thutmes I. Subsequently, Thutmes III returned the body of Thutmes I to KV 38 where it was placed in a new sarcophagus. At the end of the New Kingdom, the body was removed again to the cache in TT 320.

Romer and others now feel that this tomb was constructed on the orders of Thutmes III for the reburial of his grandfather, following a previous reinterment by Hatshepsut in her expansion of KV 20, the original tomb of Thutmes I. The ascription of responsibility for KV 38 to Thutmes III depends on the similarity of plans of the burial chambers of KV 34 and KV 38 as well as KV 42, all with rounded corners and one or two central pillars. In all three tombs the sarcophagus is at the rear of the burial chamber.

Dating
This site was used during the following period(s):
New Kingdom, Dynasty 18, Thutmes I
New Kingdom, Dynasty 18, Thutmes III
History of Exploration
Loret, Victor (1899): Discovery (made for the Service des Antiquités)
Loret, Victor (1899): Excavation (conducted for the Service des Antiquités)
Carter, Howard (1919): Excavation (discovery of foundation deposit outside entrance)

Conservation
- Conservation history: In 1899, the tomb was cleared, and fragments of decoration, inscribed with the Imydwat, were removed. They are now in the Egyptian Museum, Cairo. In 1919, Carter recovered uninscribed foundation deposits from outside the entrance to the tomb.
- Site condition: The poor quality of the rock, and floodwater penetration explain the very rough condition of the tomb today. It stands open, littered with rubbish.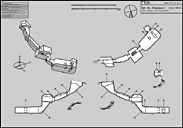 Axis in degrees: 284.07
Axis orientation: West

Site Location
Latitude: 25.44 N
Longitude: 32.36 E
Elevation: 190.36 msl
North: 99,375.461
East: 93,989.441
JOG map reference: NG 36-10
Modern governorate: Qena (Qina)
Ancient nome: 4th Upper Egypt
Surveyed by TMP: Yes

Measurements
Maximum height: 2.64 m
Minimum width: 1.22 m
Maximum width: 5.78 m
Total length: 37.31 m
Total area: 125.65 m²
Total volume: 207.77 m³

Additional Tomb Information
Entrance location: Base of sheer cliff
Owner type: King
Entrance type: Staircase
Interior layout: Corridor and chambers
Axis type: Bent

Decoration
Painting

Categories of Objects Recovered
Architectural elements
Tomb equipment