KV 36 (Maiherperi)
General Site Information
Structure: KV 36
Location: Valley of the Kings, East Valley, Thebes West Bank, Thebes
Owner: Maiherperi
Other designations:
Site type: Tomb

Description
KV 36 lies low in the southwest end of the Valley, south of KV 35, just before the modern path forks to the south and southwest. It is entered through an entryway shaft (A) leading directly into the burial chamber (J). The tomb was found almost intact and was left undecorated.

Noteworthy features
This tomb is notable because it is a non-royal tomb with much of its burial equipment as well as the mummy found intact.

Site History
KV 36 belonged to Maiherperi, Child of the Nursery and royal Fan-bearer, who died in his twenties. Much of the funerary equipment was found almost intact, although it was robbed, probably in the Rameside period. Jars containing oil were left open. Some of the jewellery, portable metalware and non-funerary linen and clothing were stolen. The tomb was later resealed and the burial chamber was rearranged hastily.

Dating
This site was used during the following period(s):
New Kingdom, Dynasty 18, Thutmes IV (date based on stylistic criteria of objects recovered, as well as title of tomb owner)
History of Exploration
Loret, Victor (1899): Discovery (made for the Service des Antiquités)
Loret, Victor (1899): Excavation (conducted for the Service des Antiquités)

Conservation
- Site condition: The tomb is well-cut, but the walls were not smoothed.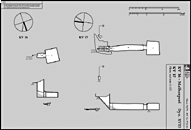 Axis in degrees: 288.85
Axis orientation: West

Site Location
Latitude: 25.44 N
Longitude: 32.36 E
Elevation: 179.81 msl
North: 99,454.423
East: 93,994.392
JOG map reference: NG 36-10
Modern governorate: Qena (Qina)
Ancient nome: 4th Upper Egypt
Surveyed by TMP: Yes

Measurements
Maximum height: 1.62 m
Minimum width: 1.01 m
Maximum width: 4.03 m
Total length: 6.34 m
Total area: 18.54 m²
Total volume: 24.77 m³

Additional Tomb Information
Entrance location: Base of sheer cliff
Owner type: Official
Entrance type: Shaft
Interior layout: Chamber
Axis type: Straight

Categories of Objects Recovered
Food
Game components
Human mummies
Jewellery
Mummy trappings
Scarabs and seals
Tomb equipment
Vegetal remains
Vessels
Warfare and hunting equipment
Written documents