KV 35 (Amenhetep II)
General Site Information
Structure: KV 35
Location: Valley of the Kings, East Valley, Thebes West Bank, Thebes
Owner: Amenhetep II
Other designations:
Site type: Tomb

Description
The tomb, located in the west branch of the southwest wadi, is cut into the bottom of the cliff face. The tomb's architectural design establishes the basic elements of a plan that continued into Dynasty 19. The architecture of the tomb also adds some new features to earlier tomb designs: a side chamber (Ea) was added to the base of the well shaft; the burial chamber J was changed to a rectangular shape and divided into upper and lower pillared sections, the latter sometimes referred to as the "crypt;" a corridor (G) separating the staircase now sloped down to the burial chamber from pillared chamber F.

Two stairwells (A, C) and two sloping corridors (B, D) lead down to the well chamber E with a side chamber (Ea) opening off the bottom. A rectangular pillared chamber (F) with two central pillars is located beyond the well. Its long axis is perpendicular to that of the preceding passages. A stepped descent (F) in the floor at the southeast corner of this chamber leads to a sloping corridor (G) and the burial chamber J. This chamber has three pairs of pillars in the forepart that flank the central axis and a sunken portion beyond that is reached by a central stairs and contains the sarcophagus. There are four subsidiary chambers (Ja-Jd) off the western and eastern sides of this chamber. Only the burial chamber of the tomb is decorated, with scenes from the Imydwat and representations of Amenhetep II with various deities. The king's mummy still lay in its sarcophagus when the tomb was discovered.

Noteworthy features
KV 35 possesses several architectural innovations: a side chamber at the bottom of the well shaft and a corridor (G) between descent F and the burial chamber J, which was rectangular with a floor on two levels. The form of the burial chamber established in this tomb continued in use until Dynasty 19. The tomb was also later used as a cache for royal mummies.

Site History
In Dynasty 21, KV 35 was used as a cache for the mummies of Thutmes IV, Amenhetep III, Merenptah, Sety II, Siptah, Rameses IV, Rameses V, Rameses VI, an anonymous female called the "Elder Woman" (who some think is Tiy, the wife of Amenhetep III), and a further mummy, probably of Setnakht. The mummies remained undisturbed until they were discovered by Victor Loret. The mummies of Amenhetep II, his son Websenu, and probably his mother Hatshepsut Meryet-Ra were found together with the remains of the cached burials.

Dating
This site was used during the following period(s):
New Kingdom, Dynasty 18, Amenhetep II
Third Intermediate Period, Dynasty 21
History of Exploration
Loret, Victor (1898): Discovery (made for the Service des Antiquités)
Bucher, Paul (1932): Photography
Hornung, Erik (1982-1992): Epigraphy

Conservation
- Conservation history: After the tomb was closed in 1994 because of flooding, the Supreme Council of Antiquities built a shelter to protect the burial from further flood damage and developed the lighting inside the tomb. There are glass panels around the pillars, and the floors of chamber F and burial chamber J are covered with wood.
- Site condition: The tomb is well-preserved.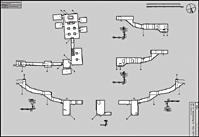 Axis in degrees: 289.09
Axis orientation: West

Site Location
Latitude: 25.44 N
Longitude: 32.36 E
Elevation: 185.5 msl
North: 99,499.394
East: 93,969.126
JOG map reference: NG 36-10
Modern governorate: Qena (Qina)
Ancient nome: 4th Upper Egypt
Surveyed by TMP: Yes

Measurements
Maximum height: 3.44 m
Minimum width: 0.94 m
Maximum width: 10.15 m
Total length: 91.87 m
Total area: 362.85 m²
Total volume: 852.21 m³

Additional Tomb Information
Entrance location: Cliff face
Owner type: King
Entrance type: Staircase
Interior layout: Corridors and chambers
Axis type: Bent

Decoration
Painting

Categories of Objects Recovered
Accessories
Architectural elements
Clothing
Food
Human mummies
Jewellery
Models
Sculpture
Tomb equipment
Vegetal remains
Vessels
Warfare and hunting equipment
Written documents