KV 34 (Thutmes III)
General Site Information
Structure: KV 34
Location: Valley of the Kings, East Valley, Thebes West Bank, Thebes
Owner: Thutmes III
Other designations:
Site type: Tomb

Description
The tomb of Thutmes III, KV 34, was cut into the base of a water-worn cleft above the cliff face at the head of the southernmost wadi in the Valley of the Kings. The architecture of KV 34 represents a transition in royal tomb design. A steep entryway (A) gives access to a corridor (B), a chamber with central descent (C), and a second corridor (D), leading to a well chamber (E). The trapezoidal chamber F beyond the well has two central pillars and a stairwell at the northern end that descends to burial chamber J. The long axis is perpendicular to that of the corridors above. The axis of the descent and the burial chamber is at less than a right angle (72.64°) to that of the preceding corridors. This chamber is rectangular with rounded corners, resembling a cartouche, and four side chambers (Ja-Jd).

The pillared chamber is decorated with scenes from the Imydwat. The burial chamber is decorated with the Imydwat and scenes from the Litany of Ra.

Noteworthy features
Well chamber E is an innovation, which is found in the tombs of Thutmes III's successors. The cartouche-shaped burial chamber J is unique, with the first complete version of the Imydwat and the earliest version of the Litany of Ra on its walls.

Site History
According to Romer, the tomb was constructed in nine phases, some of which included the completion or repair of decoration following the king's burial. Gates C, D and F were enlarged in an attempt to emplace the larger items of funerary furniture. The decoration in burial chamber J was probably not applied until after the death of the king, when the burial preparations were in progress. Before the closure of the tomb, the decoration of well chamber F, which had been damaged when the doorways were enlarged, was repainted. The tomb was plundered in antiquity, and the sarcophagus, as well as many of the remaining objects, were found damaged. It appears that two of the side chambers were anciently cleared of their original contents. Some have theorized that this may indicate that they served as temporary caches for mummies as was done in KV 35. The badly damaged mummy of Thutmes III, which was removed and rewrapped during Dynasty 21, was found in its original outer coffin in the Dayr al Bahri cache, TT 320, in 1881. Two damaged mummies found in KV 34 were also disturbed, indicating that the tomb was entered again after their burial.

Dating
This site was used during the following period(s):
New Kingdom, Dynasty 18, Thutmes III
Late Period
History of Exploration
Inspector Hosni (1898): Discovery (but claimed by Victor Loret)
Loret, Victor (1898): Excavation (conducted for the Service des Antiquités)
Daressy, Georges (1898-1899): Excavation
Bucher, Paul (1932): Photography

Conservation
- Conservation history: The Supreme Council of Antiquities has installed glass panels along the burial chamber walls to prevent tourists from touching them, and wooden flooring to protect the stone floors and aid in preventing dust accumulation. It has moved the sarcophagus box to its ancient position over a plinth of calcite blocks and placed the repaired lid on the box. Fans have been installed in the lower chambers in an attempt to reduce the build-up of humid air.
- Site condition: Water entered the tomb in the 1994 flooding and collected in the bottom of the well, where it was absorbed by unexcavated debris and increased the humidity level in the tomb.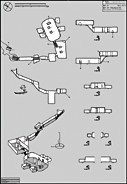 Axis in degrees: 161.50
Axis orientation: South

Site Location
Latitude: 25.44 N
Longitude: 32.36 E
Elevation: 207.2 msl
North: 99,322.075
East: 94,118.921
JOG map reference: NG 36-10
Modern governorate: Qena (Qina)
Ancient nome: 4th Upper Egypt
Surveyed by TMP: Yes

Measurements
Maximum height: 4.86 m
Minimum width: 1.08 m
Maximum width: 8.52 m
Total length: 76.11 m
Total area: 303.76 m²
Total volume: 792.71 m³

Additional Tomb Information
Entrance location: Cliff face
Owner type: King
Entrance type: Staircase
Interior layout: Corridors and chambers
Axis type: Bent

Decoration
Grafitti
Painting

Categories of Objects Recovered
Architectural elements
Human mummies
Lighting equipment
Mammal remains
Models
Scarabs and seals
Sculpture
Tomb equipment
Vessels