KV 33 (Unknown)
General Site Information
Structure: KV 33
Location: Valley of the Kings, East Valley, Thebes West Bank, Thebes
Owner: Unknown
Other designations:
Site type: Tomb

Description
The tomb is located in the south branch of the southwest wadi, northeast of KV 34 (Thutmes III). The only description of the tomb was given in the Baedeker guidebook, which stated that it was small and accessible via a flight of steps. It consists of two undecorated chambers, but it has never been fully cleared and no accurate plan exists.

Site History
According to Elizabeth Thomas, the tomb may have been dug as a subsidiary burial for Thutmes III. Weigall, however, proposed that it belonged to a member of Thutmes III's royal family or the family of the vizier Rekhmire. The tomb was never used.

Dating
This site was used during the following period(s):
New Kingdom, Dynasty 18, Thutmes III
History of Exploration
Loret, Victor (1898): Discovery (made for the Service des Antiquités)
Loret, Victor (1898): Excavation (conducted for the Service des Antiquités)

Conservation
- Site condition: The tomb is not accessible and a modern bench has been built over its entrance.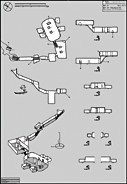 Site Location
Latitude: 25.44 N
Longitude: 32.36 E
JOG map reference: NG 36-10
Modern governorate: Qena (Qina)
Ancient nome: 4th Upper Egypt

Measurements

Additional Tomb Information
Entrance location: Cliff face
Entrance type: Staircase
Interior layout: Corridor and chambers