KV 23 (Ay)
General Site Information
Structure: KV 23
Location: Valley of the Kings, West Valley, Thebes West Bank, Thebes
Owner: Ay
Other designations: 1 [Belzoni], 23 [Lepsius], b [Burton], Schai [Prisse d'Avennes and L'Hôte], W. 2 [Wilkinson], WV 23
Site type: Tomb

Description
The tomb of Ay is located part way up the west branch of the main wadi of the West Valley, beyond KV 24 and KV 25. The tomb consists of an entryway (A), two corridors (B and D) separated by a stairwell (C), a chamber (E), a burial chamber (J), and a single side chamber (Ja). The burial chamber, the only decorated chamber in the tomb, is decorated with scenes from the Imydwat, Book of the Dead, and representations of the king and various deities. The decoration is similar in style and content to that of Ay's predecessor, Tutankhamen.

Noteworthy features
KV 23 was the last tomb to be used in the West Valley. In burial chamber J, the deceased is shown in a marsh, the only occurrence of this scene in a royal tomb.

Site History
It is generally believed that KV 23 was not originally intended for Ay. Proposed candidates for ownership have included Amenhetep IV, Semenkhkara, and Tutankhamen. It has also been suggested that Tutankhamen was first interred here before being moved to KV 62. Unfortunately, no foundation deposits have been found to support any of these proposals. Although it is not certain if Ay was buried here, remains of some of his funerary equipment have been found in the tomb. At an undetermined date, the images and names of Ay were hacked out from the wall paintings. It may have been at this time, or perhaps earlier, that the southeast side of the sarcophagus was smashed and the lid overturned on the floor. It should be noted that none of the cartouches on the fragments from this side or from the lid show evidence of erasure.


Dating
This site was used during the following period(s):
New Kingdom, Dynasty 18, Ay
History of Exploration
Belzoni, Giovanni Battista (1816): Discovery (made for Henry Salt)
Belzoni, Giovanni Battista (1816): Excavation (conducted for Henry Salt)
Lepsius, Carl Richard (1824): Epigraphy
Wilkinson, John Gardner (1824): Visit
Burton, James (1825): Visit
Carter, Howard (1908): Excavation (removal of sarcophagus fragments to Cairo for Gaston Maspero, who had them re-assembled and displayed in the Egyptian Museum)
Piankoff, Alexandre (1958): Epigraphy
Schaden, Otto J. (1972): Excavation (conducted for the University of Minnesota)

Conservation
- Conservation history: The Supreme Council of Antiquities has restored and re-installed the sarcophagus previously displayed in the Egyptian Museum (in reverse of its original position). It has placed the lid on the sarcophagus box, installed fluorescent lighting in burial chamber J, and installed wooden stairs and walkways in the corridors, as well as railings and a wood floor in the burial chamber. Breaks in the painted plaster have been patched and the surfaces of the undecorated upper corridors whitewashed.
- Site condition: Throughout burial chamber J, parts of the decoration have been lost. In some instances, this is the result of deliberate damage to the figures and names of the king, but there are also areas (e.g., to the right of the entrance) where stone has simply fallen away.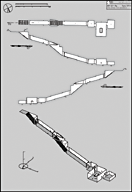 Axis in degrees: 296.44
Axis orientation: Northwest

Site Location
Latitude: 25.44 N
Longitude: 32.36 E
Elevation: 197.49 msl
North: 99,267.509
East: 93,177.253
JOG map reference: NG 36-10
Modern governorate: Qena (Qina)
Ancient nome: 4th Upper Egypt
Surveyed by TMP: Yes

Measurements
Maximum height: 5.44 m
Mininum width: 1.51 m
Maximum width: 8.89 m
Total length: 60.16 m
Total area: 212.22 m²
Total volume: 618.26 m³

Additional Tomb Information
Entrance location: Base of sheer cliff
Owner type: King
Entrance type: Staircase
Interior layout: Corridors and chambers
Axis type: Straight

Decoration
Painting

Categories of Objects Recovered
Human remains
Sculpture
Tomb equipment
Vessels
Writing equipment