KV 21 (Unknown)
General Site Information
Structure: KV 21
Location: Valley of the Kings, East Valley, Thebes West Bank, Thebes
Owner: Unknown
Other designations: 4 [Belzoni], T [Burton]
Site type: Tomb

Description
The tomb is located in the southeast branch off the main wadi, north of KV 19. It is a small, undecorated tomb, well cut with smoothed walls. The walls and ceiling bear red and black mason's marks. It lies on an east-west axis and consists of an entryway and two sloping corridors (B, D) with a stairwell (C) between them. The second corridor leads to a burial chamber (J) with a central pillar and a side chamber (Ja). There is a recess along the right (north) side of the burial chamber.

Noteworthy features
The tomb is an example of burials of Dynasty 18 royal family members. Burial chamber J has two noteworthy features: a chamber-length recess and a single central pillar.

Site History
It has been suggested that the tomb was a queen's burial. Two female mummies were found, with their left arm crossed on their chest, a pose only used for queens. Vandals entered the tomb after its discovery in 1817, broke up the mummies, hauled them up to the first corridor B, and shattered some large white pots.

Dating
This site was used during the following period(s):
New Kingdom, Dynasty 18 (date based on architectural typology)
History of Exploration
Belzoni, Giovanni Battista (1817): Discovery
Belzoni, Giovanni Battista (1817): Excavation (conducted for Henry Salt)
Burton, James (1825): Mapping/planning
Lefébure, Eugène (1889): Mapping/planning
Ryan, Donald P. (1989-1990): Excavation

Conservation
- Conservation history: In 1990 a security gate was installed and to protect the bedrock during clearing, wooden steps were added. The mummies were reassembled and returned to the burial chamber in a specially constructed case.
- Site condition: The tomb suffered damage only after its modern discovery. Burton referred to it as a "clean new tomb" which had escaped even water damage. The second opening of the tomb in 1989, however, revealed that the tomb had suffered flood damage and was filling with silt debris. Standing water damaged artifacts in the burial chamber as well as mummies which had been ravaged by vandals following the tomb's initial opening in 1817.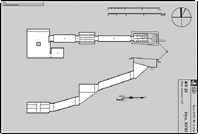 Axis in degrees: 270
Axis orientation: West

Site Location
Latitude: 25.44 N
Longitude: 32.36 E
Elevation: 180.654 msl
North: 99,584.677
East: 94,244.664
JOG map reference: NG 36-10
Modern governorate: Qena (Qina)
Ancient nome: 4th Upper Egypt

Measurements
Maximum height: 5.71 m
Minimum width: 0.88 m
Maximum width: 6.78 m
Total length: 41.04 m
Total area: 120.29 m²
Total volume: 305.73 m³

Additional Tomb Information
Entrance location: Hillside
Owner type: Unknown, possibly royal
Entrance type: Staircase
Interior layout: Corridors and chambers
Axis type: Straight

Categories of Objects Recovered
Human mummies
Minerals
Scarabs and seals
Tomb equipment
Vessels