KV 20 (Thutmes I and Hatshepsut)
General Site Information
Structure: KV 20
Location: Valley of the Kings, East Valley, Thebes West Bank, Thebes
Owner: Thutmes I and Hatshepsut
Other designations: 20 [Lepsius], 7 [Hay], Commencement de grotte taillée circulairement dans le rocher [Description], R [Burton]
Site type: Tomb

Description
Perhaps the oldest royal tomb in the Valley of the Kings, KV 20 lies high in the easternmost arm of the Valley, cut into the cliff face near KV 19. The tomb is of very unusual plan: its axis bends from the east toward the south and then toward the west, curving away from the bay of Dayr al Bahri, undermining the theory that the tomb was originally intended to connect with Hatshepsut's memorial temple. The tomb descends through a series of five corridors (B, C1, D1, C2, D2), two ending in chambers with central descents (C1, C2), until it reaches chamber J1. From there, a corridor (G) leads to the burial chamber J2. Three low-ceilinged side chambers (Ja-c) are cut into the north end of the latter. Because the soft shale walls of the burial chamber J2 are unsuitable for decoration, mortuary texts were written in red and black ink on limestone blocks which probably lined the walls.

Noteworthy features
This may be the first royal tomb cut in the Valley of the Kings. Its corridors, which bend clockwise, distinguish this tomb from others in the valley.

Site History
After digging here in 1903-1904, Carter concluded that KV 20 was shared by Hatshepsut and her father Thutmes I, whose burial had been transferred from KV 38. Seventy years later, however, Romer's study showed that KV 38 was actually later than KV 20 and had been quarried during the reign of Thutmes III as a secondary tomb for Thutmes I. KV 20 had been designed and prepared by the architect Ineni for Thutmes I, but at the time of his burial, the completed tomb stopped at chamber J1. The remaining descent in J1, corridor G and chambers (J2, J2a, J2b, J2c) were prepared during the reign of Hatshepsut to accommodate a double burial. The body of Thutmes I was later moved to KV 38, during the reign of Thutmes III. Hatshepsut's burial was left in KV 20, and was eventually sacked by tomb robbers. No remains of her mummy have been identified, although a mummified liver or spleen was found in TT 320 in a box inscribed with her cartouches.

Dating
This site was used during the following period(s):
New Kingdom, Dynasty 18, Thutmes I (following Romer's reconstruction)
New Kingdom, Dynasty 18, Hatshepsut
History of Exploration
Napoleonic Expedition (1799): Mapping/planning
Belzoni, Giovanni Battista (1817): Mapping/planning
Burton, James (1825): Excavation (clearance into corridor D1)
Burton, James (1825): Mapping/planning
Lepsius, Carl Richard (1844-1845): Mapping/planning
Carter, Howard (1903-1904): Excavation (conducted for Theodore M. Davis)

Conservation
- Conservation history: No conservation activities have been carried out since Carter's clearance of the tomb.
- Site condition: The upper corridors are cut in good quality limestone, but the lower ones are carved in softer Isna shale and have collapsed. For many years, the tomb was a haven for bats. In 1994, flooding completely filled the burial chamber with debris, making it inaccessible.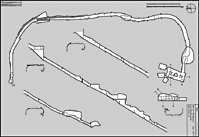 Axis in degrees: 94.04
Axis orientation: East

Site Location
Latitude: 25.44 N
Longitude: 32.36 E
Elevation: 197.51 msl
North: 99,556.847
East: 94,314.712
JOG map reference: NG 36-10
Modern governorate: Qena (Qina)
Ancient nome: 4th Upper Egypt
Surveyed by TMP: Yes

Measurements
Maximum height: 4.53 m
Minimum width: 0.69 m
Maximum width: 7.17 m
Total length: 210.32 m
Total area: 513.29 m²
Total volume: 1094.63 m³

Additional Tomb Information
Entrance location: Base of sheer cliff
Owner type: King
Entrance type: Staircase
Interior layout: Corridors and chambers
Axis type: Bent

Decoration
Painting

Categories of Objects Recovered
Architectural elements
Jewellery
Sculpture
Tomb equipment
Vessels