KV 18 (Rameses X)
General Site Information
Structure: KV 18
Location: Valley of the Kings, East Valley, Thebes West Bank, Thebes
Owner: Rameses X
Other designations: 18 [Lepsius], 4 [Champollion], M, plan M [Pococke], V [Burton]
Site type: Tomb

Description
KV 18 is located in the southeast wadi. The tomb was unfinished and very little decoration remains. The lintel of gate B is decorated with the sun disk on the horizon, and corridor B is decorated with representations of Rameses X with deities. Before 1998, only corridor B and gate C had been cleared. The MISR Project: Mission Siptah-Ramses X finished excavating KV 18 in 1999 and cleared corridor C.

Noteworthy features
Carter installed the Valley's first electric generator in entryway A in 1903.

Site History
The tomb appears to have been abandoned, still unfinished at the death of Rameses X, and subsequently filled in by flood deposits. In 1903, Carter set up a large electric generator for lighting tombs in the Valley in the roofed-over entryway A of the tomb.

Dating
This site was used during the following period(s):
New Kingdom, Dynasty 20, Ramesses X
History of Exploration
Pococke, Richard (1737-1738): Mapping/planning
Napoleonic Expedition (1799): Mapping/planning
Burton, James (1825): Mapping/planning
Franco-Tuscan Expedition (1828-1829): Epigraphy
Lepsius, Carl Richard (1844-1845): Epigraphy
Lefébure, Eugène (1889): Mapping/planning
Carter, Howard (1902): Excavation (discovery of foundation deposits outside entrance)
Romer, John (1978): Epigraphy (carried out for Brooklyn Museum)
MISR Project: Mission Siptah-Ramses X (1998-2000): Excavation

Conservation
- Site condition: Floods were responsible for the loss of decoration. Much of the painted relief decoration on the lintel of gate B and the plaster in corridor B has been lost. Carter had the walls of this corridor white-washed.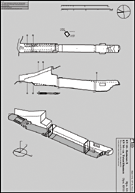 Axis in degrees: 185.95
Axis orientation: South

Site Location
Latitude: 25.44 N
Longitude: 32.36 E
Elevation: 180.974 msl
North: 99,564.458
East: 94,161.915
JOG map reference: NG 36-10
Modern governorate: Qena (Qina)
Ancient nome: 4th Upper Egypt
Surveyed by TMP: Yes

Measurements
Maximum height: 4.44 m
Mininum width: 2.74 m
Maximum width: 3.7 m
Total length: 42.68 m
Total area: 144.32 m²
Total volume: 319.73 m³

Additional Tomb Information
Entrance location: Base of sloping hill
Owner type: King
Entrance type: Ramp
Interior layout: Corridors
Axis type: Straight

Decoration
Sunk relief

Categories of Objects Recovered
Architectural elements
Furniture (not original to the tomb, washed in during floods)
Mammal remains (not original to the tomb)
Tomb equipment (not original to the tomb, washed in during floods)
Vessels (not original to the tomb, washed in during floods)
Written documents