KV 16 (Rameses I)
General Site Information
Structure: KV 16
Location: Valley of the Kings, East Valley, Thebes West Bank, Thebes
Owner: Rameses I
Other designations: 11 [Hay], 16 [Lepsius], 2 [Champollion], 3 [Belzoni], X [Burton]
Site type: Tomb

Description
KV 16, located in the southeast wadi, was unfinished at the time of Rameses I's death. Its axis is oriented roughly to the southwest. The tomb is of a simple plan, and has a stepped entryway (A), a sloping corridor (B) and a stairwell (C), followed by the burial chamber J with three side chambers (Ja-c). A pair of holes in the walls of corridor B served to hold a beam for lowering the sarcophagus with the aid of ropes. The unfinished trapezoidal recesses in corridor C are unusually wide. The burial chamber J may have been intended to be larger if side chamber Jb is an abandoned cutting. Two pairs of magical brick niches are set high up on the side walls of burial chamber J, and side chamber Jb may have served as the emplacement for the now-missing canopic chest. The tomb is decorated with scenes from the Book of Gates (burial chamber J, side chamber Jb) and scenes of the deceased with deities (burial chamber J). KV 16 has suffered from flood damage.

Noteworthy features
Burial chamber J comes immediately after the second corridor B.


Site History
Only the entryway and the first two corridors of KV 16 had been cut when Rameses I died. The broken condition of the sarcophagus lid and the upper edge of the box show that the tomb was plundered, perhaps at the end of Dynasty 20 or in Dynasty 21. The mummy was eventually cached in TT 320 in the tenth regnal year of Saamen after previously being hidden in KV 17. The tomb entrance subsequently was covered over, as the absence of any Greek or Latin graffiti attests.

Dating
This site was used during the following period(s):
New Kingdom, Dynasty 19, Rameses I
History of Exploration
Belzoni, Giovanni Battista (1817): Discovery
Belzoni, Giovanni Battista (1817): Excavation (conducted for Henry Salt)
Burton, James (1825): Mapping/planning
Lane, Edward William (1826-1827): Visit
Franco-Tuscan Expedition (1828-1829): Epigraphy
Lepsius, Carl Richard (1844-1845): Epigraphy
Piankoff, Alexandre (1957): Epigraphy

Conservation
- Conservation history: The Supreme Council of Antiquities has installed four ceiling supports in the burial room around the sarcophagus, the sarcophagus lid has been placed on the box with repairs in tinted plaster made to breaks in both box and lid. Wooden walkways, stairs and fluorescent lighting have been added.
- Site condition: The stone in the tomb is fractured and has suffered from flood damage. Rain water entered the tomb through joints and faults in the surface limestone. The painted decoration has also suffered from the floods: paint has flaked off and the walls have cracked because of rock movement.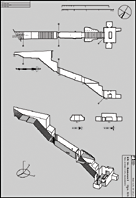 Axis in degrees: 240.41
Axis orientation: Southwest

Site Location
Latitude: 25.44 N
Longitude: 32.36 E
Elevation: 178.032 msl
North: 99,564.947
East: 94,122.665
JOG map reference: NG 36-10
Modern governorate: Qena (Qina)
Ancient nome: 4th Upper Egypt
Surveyed by TMP: Yes

Measurements
Maximum height: 4.96 m
Mininum width: 1.28 m
Maximum width: 6.26 m
Total length: 49.34 m
Total area: 147.94 m²
Total volume: 283.83 m³

Additional Tomb Information
Entrance location: Base of sloping hill
Owner type: King
Entrance type: Staircase
Interior layout: Corridors and chambers
Axis type: Straight

Decoration
Painting

Categories of Objects Recovered
Human mummies
Sculpture
Tomb equipment