KV 15 (Sety II)
General Site Information
Structure: KV 15
Location: Valley of the Kings, East Valley, Thebes West Bank, Thebes
Owner: Sety II
Other designations: 10 [Champollion], 15 [Lepsius], 21, T [Hay], B [Burton], I, plan H [Pococke], VIe Tombeau à l'ouest [Description]
Site type: Tomb

Description
The entrance to KV 15, the tomb of Sety II, like that of his wife Tausert (KV 14), is cut directly into the vertical cliff face at the head of the branch wadi running southwest from the main valley. The tomb lies on a northeast-southwest axis, and consists of a short entryway (A), three long corridors (B, C, D), a chamber without a well shaft (E), a pillared chamber with a central descent (F), and a burial chamber (J) adapted from an unfinished corridor.

The entrance to the tomb was cut into the cliff with projecting rubble-built side walls. These walls were smoothed over with a layer of white plaster, as elsewhere in the tomb. The usual chamber off the right side of pillared chamber F is lacking here, although a rectangular recess in a comparable position in the left wall may mark the beginning of the door for such a side chamber. Also absent are the high trapezoidal niches at the beginning of corridor C. A rectangular recess, cut at some later date into the beginning of the first corridor's left wall, damaged the raised relief figure of the king. The slope of the entrance and the following corridors is minimal.

The walls of the tomb are decorated with scenes from the Litany of Ra (corridor B, gate C, corridor C), the Imydwat (corridor C, corridor D), the Book of Gates (pillared chamber F, burial chamber J), and representations of the deceased and deities (corridor B, corridor C, gate D, chamber E, pillared chamber F, burial chamber J).

The first corridor is decorated in sunk and raised relief, but the decoration in the remainder of the tomb, probably completed after the death of the king, was done in paint alone. In the second and third corridors, only preliminary sketches were painted on a grayish-brown plaster surface. The scenes on the left walls of corridors C and D are oriented towards the rear of the tomb, while on the right walls they are oriented towards the entrance. Only in pillared chamber F is sunk relief again used, although not always painted, with white background. There is a marked stylistic difference between the decoration in pillared chamber F and the first corridors of the tomb, and even in the first corridor (B) stylistic differences may be seen between the raised and sunk relief.

Noteworthy features
The tomb is noteworthy for its decoration. Chamber E contains figures of divine statues. There are preliminary sketches of decoration in corridors B and C, and the king's names were inscribed, erased, and then reinscribed on gate B and in corridor B. Also, the entrance cut directly into the cliff is significant.

Site History
The history of KV 15 is not fully known. It has been suggested that the decoration of gate and corridor B was interrupted, perhaps during the reign of Amenmeses, if that king did indeed reign concurrently with Sety II rather than prior to him. There is definite evidence of the erasure of Sety II's names followed by their recarving, and these deletions may have taken place either during the usurpation of Amenmeses or during the reign of Siptah and later restored by Tausert. Altenmüller believes that the body of the king was initially interred in KV 14 with his wife, Tausert, then reburied by Setnakht in the abandoned KV 15, which was then quickly finished. Whether this was so, or the king was initially buried in his own unfinished tomb, the body was later removed and placed in a coffin in the KV 35 cache.

Over sixty Greek and other graffiti found on the walls of the tomb show that it remained open throughout the later Graeco-Roman period.

Dating
This site was used during the following period(s):
- New Kingdom, Dynasty 19, Sety II
- Graeco-Roman Era
- New Kingdom, Dynasty 19

History of Exploration
Pococke, Richard (1737-1738): Mapping/planning
Napoleonic Expedition (1799): Mapping/planning
Burton, James (1825): Mapping/planning
Franco-Tuscan Expedition (1828-1829): Epigraphy
Lepsius, Carl Richard (1844-1845): Epigraphy
Carter, Howard (1903-1904): Excavation

Conservation
- Conservation history: Breaks in the walls have recently been filled in by Supreme Council of Antiquities restorers. The local antiquities inspectorate has constructed a covered extension to the entrance to protect the tomb from future flooding since the entrance is located beneath the site of a waterfall. Inside the tomb, wooden walkways and fluorescent lighting are being installed.
- Site condition: Much of the painted decoration is intact and the plaster appears to be relatively stable, but only the well-preserved relief in pillared chamber F was ever painted.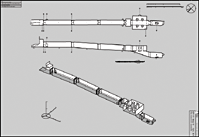 Axis in degrees: 223.75
Axis orientation: Southwest

Site Location
Latitude: 25.44 N
Longitude: 32.36 E
Elevation: 192.62 msl
North: 99,355.431
East: 94,001.317
JOG map reference: NG 36-10
Modern governorate: Qena (Qina)
Ancient nome: 4th Upper Egypt
Surveyed by TMP: Yes

Measurements
Maximum height: 3.5 m
Mininum width: 2.17 m
Maximum width: 8.06 m
Total length: 88.65 m
Total area: 298.11 m²
Total volume: 816.53 m³

Additional Tomb Information
Entrance location: Base of sheer cliff
Owner type: King
Entrance type: Ramp
Interior layout: Corridors and chambers
Axis type: Straight

Decoration
Grafitti
Painting
Raised relief
Sunk relief

Categories of Objects Recovered
Human mummies
Tomb equipment