KV 14 (Tausert and Setnakht)
General Site Information
Structure: KV 14
Location: Valley of the Kings, East Valley, Thebes West Bank, Thebes
Owner: Tausert and Setnakht
Other designations: 14 [Lepsius], 20, S [Hay], 9 [Champollion], C [Burton], H, plan G [Pococke], Ve Tombeau à l'ouest [Description]
Site type: Tomb

Description
The tomb entrance of KV 14 is cut into the base of the cliff face at the end of the southwest branch of the main wadi. The short open entryway A is followed by three corridors (B, C and D) decorated in sunk relief with scenes of the queen accompanying Siptah (subsequently changed to Sety II) before various deities, followed by representations of the guardians of the portals of the realm of Osiris from the Book of the Dead. Chamber E had no shaft cut into its floor. It was succeeded by pillared chamber F with a central descent but without the usual flanking pair of pillars.

There are two corridors (G and H) beyond the descent, followed by a chamber (I). There is a side chamber (Ga) off the left (south) wall of corridor G, thought by some to have been intended as a burial chamber in an earlier phase of the tomb's construction. The first burial chamber J1 has a vaulted ceiling and sunken floor flanked by two rows of four pillars on benches to the front (east) and rear (west). Four unfinished side chambers are located at the corners of burial chamber J1.

The corridor K1 to the west, with two side chambers (K1a, K1b), represents an abandoned start of the cutting of a second burial chamber. A second corridor (L) leads to the ultimate, second burial chamber J2, of larger dimensions than the first one. This chamber also has a sunken central floor and vaulted ceiling flanked by two rows of four pillars on benches to the front (east) and rear (west). The four side chambers were completely cut, but undecorated, and only the front (east) wall of this burial chamber received preliminary drawings for decoration. A broken sarcophagus and lid are located right (north) of the center of the sunken floor.

An unfinished axial corridor (K2) to the rear (west) has an abandoned gateway cutting in each side. The tomb is decorated with scenes from the Book of the Dead (corridor C, corridor D, pillared chamber F, descent F, side chamber Ga), Opening of the Mouth ritual (corridors G and H), Book of Caverns (burial chamber J1), Book of the Earth (burial chamber J1), Book of Gates (burial chambers J1 and J2), the Imydwat (corridor K1, corridor L), as well as images of the deceased and/or deities (corridor B, gates C-E, chambers E and F, side chamber Ga, gate H, gate I, chamber I and burial chamber J1).

Noteworthy features
KV 14 is a rare example of a queen' s tomb of the Rameside period in the Valley of the Kings re-used for a king's burial. This tomb possesses two complete burial chambers (J1 and J2); the thicknesses of gates before the first burial chamber J1 were cut back. A third burial chamber (K1, K1a and K1b) was begun but abandoned between the other two. Names and images were altered from Tausert to Setnakht and from Siptah to Sety II. Side chamber Ga is unique.

Site History
Several phases of construction have been recognized by Altenmüller, reflecting the changing status of Tausert from royal wife under Sety II, to regent during the reign of Siptah, and finally to independent ruler at the end of Dynasty 19. In the last phase, Altenmüller believes that Sety II was buried in the first burial chamber J1, but this is questionable since work was being carried out for the construction of the second burial chamber J2.

The fate of Tausert's own burial is uncertain since the tomb was taken over in Dynasty 20 for the burial of Setnakht. Her mummiform granite sarcophagus was recently found in KV 13 where it had been re-used for the burial of prince Amenherkhepeshef. In most instances, the image and name of the queen were replaced with those of Setnakht. At some point, the names of Siptah were altered to those of Sety II, although the date of this change is not known.

Dating
This site was used during the following period(s):
- New Kingdom, Dynasty 19, Tausert (begun during the reign of Sety II)
- New Kingdom, Dynasty 20, Setnakht (tomb taken over for burial of this ruler)

History of Exploration
Pococke, Richard (1737-1738): Mapping/planning
Napoleonic Expedition (1799): Epigraphy
Burton, James (1825): Mapping/planning
Franco-Tuscan Expedition (1828-1829): Epigraphy
Lepsius, Carl Richard (1844-1845): Epigraphy
Service des Antiquités (1893-1895): Excavation
Altenmüller, Hartwig (1983-1987): Excavation (conducted for the University of Hamburg)

Conservation
- Conservation history: New walkways and lighting have recently been installed. Following the 1994 floods, a cement shelter was constructed over entryway A.
- Site condition: The painted plaster relief in the upper corridors has suffered some damage, partly as a result of ancient alterations of decoration, and the action of salt efflorescence. In general, however, the rock is stable, the painted paste decoration is largely intact, and the colors are bright. Water staining is visible around cracks in the plaster of the vaulted ceilings in the two burial chambers J1 and J2.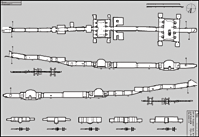 Axis in degrees: 264
Axis orientation: West

Site Location
Latitude: 25.44 N
Longitude: 32.36 E
Elevation: 186.83 msl
North: 99,387.387
East: 93,982.717
JOG map reference: NG 36-10
Modern governorate: Qena (Qina)
Ancient nome: 4th Upper Egypt
Surveyed by TMP: Yes

Measurements
Maximum height: 6.01 m
Mininum width: 0.89 m
Maximum width: 13.31 m
Total length: 158.41 m
Total area: 628.55 m²
Total volume: 2128.83 m³

Additional Tomb Information
Entrance location: Base of sheer cliff
Owner type: King
Entrance type: Ramp
Interior layout: Corridors and chambers
Axis type: Straight

Decoration
Grafitti
Painting
Sunk relief

Categories of Objects Recovered
Tomb equipment