KV 12 (Unknown)
General Site Information
Structure: KV 12
Location: Valley of the Kings, East Valley, Thebes West Bank, Thebes
Owner: Unknown
Other designations: 12 [Lepsius], 18 [Hay], F [Pococke]
Site type: Tomb

Description
The plan of KV 12, particularly of its lower chambers, suggests that it was intended for multiple burials of royal family members. It lies on a south-north axis and is unusual in several ways. The slightly offset entryway (A) opens into a chamber (B) with a single pillar, three unfinished side chambers (Ba-c), and a stairway, rather than into the long first corridor typical in other tombs in the Valley. This first chamber is followed by two corridors (C and E), separated by a chamber with descent (D). Corridor E opens to a chamber (F) flanked by four side chambers (Fa-d), and a last chamber (G) with side chamber (Ga).

The outermost chambers are roughly hewn, while the innermost chambers are more meticulously cut. Although the inner chambers of the tomb appear to be asymmetrical, the inked outlines of uncut doors show that a balanced set of side chambers was originally intended. It is possible that these side chambers were not cut due to veins of calcite in the rock. The tomb is undecorated, but Burton reported a graffito on the front (east) wall of side chamber Ga.

Noteworthy features
The builders of KV 9 accidentally broke into this tomb when carrying out their excavations. Where we would expect the first corridor, the tomb builders cut a chamber (B) with central pillar, side chambers, and lateral descent. The unusual design of the tomb with its multiple side chambers is similar to KV 5 (but on a smaller scale), and also to KV 27 and KV 30.

Site History
Because KV 12 is not decorated, and because it has been thoroughly plundered, the exact dates of construction and use are unknown. It was probably begun in Dynasty 18 and used in Dynasty 19 or 20 for multiple burials, perhaps for royal family members, as KV 5 was used by Rameses II. The lower chambers pre-date Rameses VI since the east wall of chamber G was broken through by the tomb cutters of KV 9. If there had been any earlier burials, they may have been plundered at that time.

Dating
This site was used during the following period(s):
- New Kingdom, Dynasty 18 (components A-E, based on architectural style)
- New Kingdom, Dynasty 19 (components F-G, based on architectural style and the subsequent breakthrough by KV 9)

History of Exploration
Pococke, Richard (1737-1738): Mapping/planning
Belzoni, Giovanni Battista (1817): Mapping/planning
Burton, James (1825): Mapping/planning
Burton, James (1825): Visit
Wilkinson, John Gardner (1825-1828): Mapping/planning
Jones, Ernest Harold (1908-1909): Excavation (discovery of shabtis of Rameses VI outside entrance)
Carter, Howard (1920-1921): Excavation (unsuccessful search for foundation deposits at entrance)
Brock, Edwin C. (1994): Photography
Schaden, Otto J. (1994): Photography

Conservation
- Conservation history: Wooden steps and a wooden door were built at the entrance in 1994, and the lower steps were repaired with cement. Only a small amount of water entered the tomb during the 1994 flood. Because of the possibility of greater flooding in the future, however, a low wall was erected in gate G in 1997 to protect KV 9.
- Site condition: The walls and ceiling of the first chamber B, the first corridor C and stairwell D are covered with soot. The lower chambers are clean.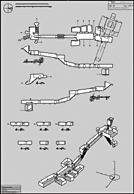 Axis in degrees: 345.09
Axis orientation: North

Site Location
Latitude: 25.44 N
Longitude: 32.36 E
Elevation: 181.29 msl
North: 99,511.228
East: 93,994.237
JOG map reference: NG 36-10
Modern governorate: Qena (Qina)
Ancient nome: 4th Upper Egypt
Surveyed by TMP: Yes

Measurements
Maximum height: 5.42 m
Mininum width: 0.93 m
Maximum width: 5.55 m
Total length: 92.33 m
Total area: 253.83 m²
Total volume: 476.77 m³

Additional Tomb Information
Entrance location: Hillside
Entrance type: Staircase
Interior layout: Corridors and chambers
Axis type: Straight

Categories of Objects Recovered
Human mummies
Tomb equipment