SKV 6 (Rameses IX)

General Site Information
Structure: KV 6
Location: Valley of the Kings, East Valley, Thebes West Bank, Thebes
Owner: Rameses IX
Other designations: 12 [Champollion], 3e Tombeau à l'est [Description], 6 [Lepsius], 9 [Hay], L [Burton], N (?) [Pococke]
Site type: Tomb

Description
The entrance to the tomb of Rameses IX, located in the main wadi, lies on a northwest-southeast axis and is cut into the west side of a large hill that dominates the central part of the Valley. Its plan consists of an open entryway ramp (A), three successive corridors (B, C, D), a chamber E, and an unfinished pillared chamber (F) with central descent, which leads to the burial chamber J. The first corridor B has four undecorated side chambers (Ba-Bd), one of which (Bd) was left unfinished. The first three corridors of the tomb are well cut, but no well-shaft was excavated in chamber E. A corridor following descent F was enlarged to be used as the burial chamber. A two-tiered pit to hold the missing sarcophagus or coffin was cut into the floor of the burial chamber.

The tomb is decorated with scenes from the Book of Gates (gate B, corridor C), Litany of Ra (corridor B, corridor C), Book of Caverns (corridor B, corridor C, burial chamber J), Imydwat (corridor C, corridor D), Book of the Dead (corridor C), Book of the Earth (burial chamber J), Book of the Night (burial chamber J), and Opening of the Mouth ritual (corridor B, well chamber E). There are also representations of the deceased with deities (corridor B, corridor C, corridor D, burial chamber J), bound enemies (corridor C, corridor D), enigmatic compositions (corridor D), and an astronomical ceiling (corridor C). Abitz observed that at the time of the death of Rameses IX, only corridors B and C had been plastered, and only the painted decoration in corridor B had been completed. After the death of the king, the remaining plastering and painting of the ceiling and walls of the tomb were hastily finished. The walls of KV 6 contain over fifty graffiti, mainly located on the upper part of the walls, indicating the tomb was partly filled with debris during antiquity.

Noteworthy features
KV 6 has one of largest entrances in the Valley. The intention to cut pilasters at the end of the entryway A as well as the presence of side chambers off the first corridor B are reminiscent of KV 11. There is a large two-tiered pit in the floor of burial chamber J. This the last royal tomb in the Valley to have so much of its decoration completed.

Site History
KV 6 was unfinished at the time of the death of Rameses IX. It appears that only about half of the originally planned decoration was completed at the time of the Rameses IX's death.

The tomb has been open since antiquity. The mummy of the king was found in the Dayr al Bahari cache (DB 320) in 1881.

Dating
This site was used during the following period(s):
New Kingdom, Dynasty 20, Rameses IX
Graeco-Roman Era
Byzantine Period
History of Exploration
Pococke, Richard (1737-1738): Mapping/planning
Salt, Henry (1817): Excavation
Hay, Robert (1824): Mapping/planning
Wilkinson, John Gardner (1824): Visit
Burton, James (1825): Mapping/planning
Franco-Tuscan Expedition (1828-1829): Epigraphy
Daressy, Georges (1888): Excavation (conducted for the Service des Antiquités)

Conservation
- Conservation history: The rough unfinished surfaces in chamber F have recently been smoothed over with plaster. Glass wall panels have been installed in corridors B, C and D and chamber E.
- Site condition: KV 6 has not suffered from flood damage, but the paint on the walls of the tomb is faded and flaking off. The lower registers of painted decoration on the walls of the burial chamber are lost.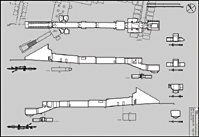 Axis in degrees: 123.01
Axis orientation: Southeast

Site Location
Latitude: 25.44 N
Longitude: 32.36 E
Elevation: 171.481 msl
North: 99,614.405
East: 94,075.487
JOG map reference: NG 36-10
Modern governorate: Qena (Qina)
Ancient nome: 4th Upper Egypt
Surveyed by TMP: Yes

Measurements
Maximum height: 4.61 m
Minimum width: 0.81 m
Maximum width: 8.55 m
Total length: 105.02 m
Total area: 396.41 m²
Total volume: 1076.35 m³

Additional Tomb Information
Entrance location: Base of sloping hill
Owner type: King
Entrance type: Ramp
Interior layout: Corridors and chambers
Axis type: Straight

Decoration
Grafitti
Painting
Sunk relief

Categories of Objects Recovered
Sculpture
Tomb equipment
Transport
Written documents