KV 3 (Son of Rameses III)

General Site Information
Structure: KV 3
Location: Valley of the Kings, East Valley, Thebes West Bank, Thebes
Owner: Son of Rameses III
Other designations: 1er Tombeau à l'est [Description], 3 [Hay], 3 [Lepsius], 5 [Champollion], O, plan N (?) [Pococke], P [Burton]
Site type: Tomb

Description
KV 3, located in the first southeast branch off the main wadi, resembles in plan tombs of royal family members of Dynasty 20 in the Valley of the Queens. Its open entryway (A) leads to a corridor (B) from which side chambers were to open off each side (Ba, Bb). Only the right (south) side chamber Bb was fully cut; a cutting on the left (north) marks the beginning of the gate and side chamber Ba. A pillared chamber (F) follows on the main axis, also with side chambers (Fa, Fb). Here, the left (north) side chamber Fa was completed, while on the right (south) Fb is represented only by the abandoned gate cutting. On the same main axis, three smaller chambers (G, H, J) occupy the rear; the first two have vaulted ceilings.

The tomb's extant decoration in painted sunk relief on plaster survives only in corridor B, as well as gates B and F. The principal decorative theme consisted of depictions of Rameses III followed by a prince, before various deities. It is assumed that the decorative program was complete, however, since Carl Richard Lepsius noted painted decoration on the ceiling of the vaulted chamber and depictions of the king on the walls of the first corridor B, as well as gates B and C.

Noteworthy features
This is one of the few decorated tombs of a prince in the Valley of the Kings. It has two narrow rear chambers, with vaulting at ninety degrees to the usual form.

Site History
An ostracon in the Berlin Museum (Berlin Ostracon P.10663) records that in regnal year 28 of Ramesses III a group of workmen went to the Valley of the Kings to "found the [tomb] of a prince of His Majesty." The tomb may be KV 3, but the name of the prince is unknown, although some have suggested that it was intended for the prince who succeeded his father as Rameses IV. There are no indications that the tomb received a royal burial. Bricks and remains of sandstone columns indicate that KV 3 was used as a Christian chapel during the Byzantine Period.

Dating
This site was used during the following period(s):
-New Kingdom, Dynasty 20, Rameses III (dated by the presence of the king's cartouches)
-Byzantine Period

History of Exploration
Pococke, Richard (1737-1738): Mapping/planning
Burton, James (1825): Mapping/planning
Franco-Tuscan Expedition (1828-1829): Epigraphy
Lepsius, Carl Richard (1844-1845): Visit
Ayrton, Edward Russell (1904-1906): Excavation (conducted around entrance)
Quibell, James Edward (1904-1906): Excavation (conducted around entrance)
Burton, Harry (1912): Excavation (conducted for Theodore M. Davis)

Conservation
- Conservation history: A rubble revetment was constructed around the entrance, together with a wall across the entry. A metal gate has been installed in gate B, partly covering inscriptions on the thicknesses.
- Site condition: The painted plaster wall decoration has almost entirely fallen away except near the ceiling in corridor B. A coating of smoke from recent burning of trash in the corridor entrance has damaged the ceiling.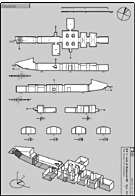 Axis in degrees: 68.56
Axis orientation: East

Site Location
Latitude: 25.44 N
Longitude: 32.36 E
Elevation: 167.246 msl
North: 99,695.005
East: 94,136.424
JOG map reference: NG 36-10
Modern governorate: Qena (Qina)
Ancient nome: 4th Upper Egypt
Surveyed by TMP: Yes

Measurements
Maximum height: 3.13 m
Minimum width: 1.03 m
Maximum width: 7.71 m
Total length: 53.47 m
Total area: 193.36 m²
Total volume: 464.98 m³

Additional Tomb Information
Entrance location: Base of sloping hill
Owner type: Prince
Entrance type: Ramp
Interior layout: Corridor and chambers
Axis type: Straight

Decoration
Sunk relief

Categories of Objects Recovered
Architectural elements
Vessels