KV 2 (Rameses IV)

General Site Information
Structure: KV 2
Location: Valley of the Kings, East Valley, Thebes West Bank, Thebes
Owner: Rameses IV
Other designations: 13 [Champollion], 2 [Hay], 2 [Lepsius], B, plan A [Pococke], IIe Tombeau à l'ouest [Description], N [Burton]
Site type: Tomb

Description
KV 2 is cut into the base of a hill on the northwest side of the main wadi of the Valley of the Kings, just south of the branch wadi leading to KV 1. The tomb consists of three gently sloping corridors (B, C, D) followed by a chamber (E), a burial chamber (J), and a corridor beyond (K) with side chambers Ka-c. The tomb is decorated with scenes from the Litany of Ra (corridor B, corridor C), Book of Caverns (corridor D, corridor K), Book of the Dead (well chamber E), Book of Gates (burial chamber J), Imydwat (burial chamber J), Book of Nut (burial chamber J), Book of the Night (burial chamber J), Book of the Earth (gate Kb), deceased and deities (corridor B, corridor K, side chamber Ka, side chamber Kb, side chamber Kc), and burial furniture (side chamber Kb).

The original plan of the tomb was altered after the death of the king, and the chamber which would have been pillared chamber F was used for burial chamber J. Two plans of the tomb are known: a plan of the whole tomb drawn on a papyrus now in the Turin Museum (Cat. 1885), and a sketch of the doorway of the tomb on an ostracon found in the rubble at the entrance.

Noteworthy features
Notable architectural features of this tomb include: the barrel-vaulted ceiling of corridor D; the ramp through the floor of corridor D, gate E and chamber E; the conversion of a pillared chamber into a burial chamber; side chambers and recesses off the rear corridor K. Also unusual are the number of foundation deposit pits, although not all were used.

Decoration unique to this tomb includes the representation of Shu and Nut from the Book of Nut on the ceiling of burial chamber J, the mummiform figures in Ka and Kc, and parts of the Book of Caverns, which appear for the first time in the Valley of the Kings.

KV 2 is one of the few tombs for which an ancient plan has survived.

The tomb was frequently visited in antiquity, and graffiti are scattered throughout the tomb. In general, each visitor left his name, his profession, his origin, and personal comments about the tomb. There is a significant number of Coptic graffiti, including representations of saints and Coptic crosses.

Site History
The construction of the pillared chamber was cut short at the king's death when little beyond the pillared chamber was completed. That chamber was converted into a burial chamber, the pillars removed, and the floor lowered to accommodate the massive sarcophagus. Later, after vandals had disturbed the burial, the king's mummy was reburied in a re-used coffin in the cache in KV 35.

KV 2 has been open since antiquity. There are over seven hundred Greek and Latin graffiti throughout the tomb. Over fifty Coptic graffiti show that the tomb was used during the Coptic Period. During the first half of the nineteenth century, the tomb was often used as a dwelling by European explorers investigating the Valley.

Dating
This site was used during the following period(s):
- New Kingdom, Dynasty 20, Rameses IV
- Graeco-Roman Era
- Byzantine Period

History of Exploration
Sicard, Claude (1718): Visit
Pococke, Richard (1737-1738): Mapping/planning
Bruce, James (1768): Visit
Burton, James (1825): Mapping/planning
Wilkinson, John Gardner (1825-1828): Visit
Franco-Tuscan Expedition (1828-1829): Epigraphy
Jones, Owen (1832): Visit
Pückler-Muskau, Hermann Ludwig Heinrich (1837): Visit
L'Hôte, Nestor (1838): Visit
Ayrton, Edward Russell (1905-1906): Excavation (discovery of foundation deposits at entrance, made for Theodore M. Davis)
Carter, Howard (1920): Excavation (conducted for Earl of Carnarvon)

Conservation
- Conservation history: Recent work by the Egyptian Antiquities Association/Supreme Council of Antiquities included in-filling of cracks and holes in walls and ceiling, the cleaning of painted decoration, the installation of new lighting, wooden walkways and glass panels.
- Site condition: KV 2 was spared floodwater damage, and the painted decoration on the walls is well-preserved.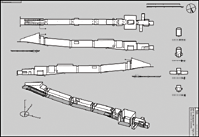 Axis in degrees: 291.5
Axis orientation: West

Site Location
Latitude: 25.44 N
Longitude: 32.36 E
Elevation: 167.807 msl
North: 99,723.763
East: 94,074.579
JOG map reference: NG 36-10
Modern governorate: Qena (Qina)
Ancient nome: 4th Upper Egypt
Surveyed by TMP: Yes

Measurements
Maximum height: 5.21 m
Minimum width: 1.24 m
Maximum width: 8.32 m
Total length: 88.66 m
Total area: 304.88 m²
Total volume: 1105.25 m³

Additional Tomb Information
Entrance location: End of spur
Owner type: King
Entrance type: Ramp
Interior layout: Corridors and chambers
Axis type: Straight

Decoration
Grafitti
Painting
Sunk relief

Categories of Objects Recovered
Architectural elements
Furniture
Human mummies
Tomb equipment
Vegetal remains
Written documents