KV F (Unknown)
General Site Information
Structure: KV F
Location:, Thebes West Bank, Thebes
Owner: Unknown
Other designations:
Site type: Tomb

Description
KV F is located in the south branch off the southwest wadi. This rectangular tomb commencement was noted by Carter in the rear of the cleft forming the bottom of the water-fall channel in which KV 34 is cut. No details are given as to whether it was a shaft or stairwell. To the west, Carter found four foundation deposit pits outlining a square. One of the deposits was intact and contained objects with the name of Thutmes III. Their proximity to KV F, led Carter to believe that they were associated with that abandoned commencement.

Site History
Due to the presence of nearby foundation deposits bearing the name of Thutmes III as well as its position beneath the tomb made for that king, Carter believed this was an abandoned commencement for that same king's tomb. Others, such as Thomas, however, feel that the foundation deposits are to be associated with KV 34 and not with KV F.

Dating
This site was used during the following period(s):
New Kingdom, Dynasty 18, Thutmes III (dated according to by proximity to KV 34)
History of Exploration
Carter, Howard (1921): Discovery

Conservation
- Site condition: The tomb is inaccessible and filled with debris.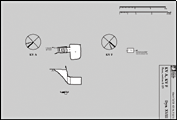 Axis in degrees: 138.49
Axis orientation: Southeast

Site Location
Latitude: 25.44 N
Longitude: 32.36 E
JOG map reference: NG 36-10
Modern governorate: Qena (Qina)
Ancient nome: 4th Upper Egypt

Measurements
Minimum width: 1.34 m
Maximum width: 1.34 m
Total length: 2.16 m
Total area: 2.96 m²

Additional Tomb Information
Entrance location: Base of sheer cliff

Categories of Objects Recovered
Architectural elements