by Mike Barrett
August 24, 2018
from NaturalSociety Website
Mike is the co-founder, editor, and researcher behind Natural Society. Studying the work of top natural health activists, and writing special reports for top 10 alternative health websites, Mike has written hundreds of articles and pages on how to obtain optimum wellness through natural health.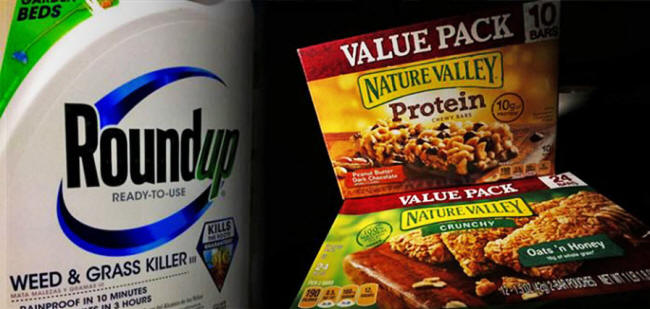 Just a little over a week after an Environmental Working Group (EWG) report showed that potentially unsafe levels of glyphosate had been discovered in oat products, including Cheerios, General Mills (the maker of Cheerios) has been slapped with a lawsuit.
The company has decided to remove the phrase "Made with 100% Natural Whole Grain Oats" from the labels of its Nature Valley granola bars.

The lawsuit was filed on August 23 by a Florida woman in Miami federal court.
Earlier in August, a California jury awarded $289 million to a man who claimed that Monsanto's (now officially known as Bayer due to a merger) blockbuster herbicide Roundup caused him non-Hodgkin lymphoma (NHL) while he was working as a school groundskeeper. [1]

In her complaint against General Mills, Mounira Doss states the EWG's report showed that Cheerios contained 470-530 parts per billion (ppb) of glyphosate, the main ingredient in Roundup.
The U.S. Environmental Protection Agency (EPA) caps the amount of glyphosate allowed in grains and cereals at 30,000 ppb, but EWG sets their health benchmark at 160 ppb.

Doss says she would never have purchased General Mills' Cheerios and Honey Nut Cheerios had she known they contained glyphosate.

Doss said:
"Scientific evidence shows that even ultra-low levels of glyphosate may be harmful to human health."
She also points out that the World Health Organization's (WHO) International Agency for Research on Cancer (IARC) categorized glyphosate as,
"probably carcinogenic to humans" in 2015, and that glyphosate recently joined California's Prop 65 list of chemicals "known to cause cancer or birth defects or other reproductive harm." [2]
Doss alleges in the lawsuit that General Mills,
"knew or should have known that Cheerios and Honey Nut Cheerios contained glyphosate but withheld this information from consumers and the general public." [1]
The plaintiff further accuses the company of violating several state consumer protection laws, stating: [2]
"The Florida class was deceived by Defendant's omission into believing that Cheerios and Honey Nut Cheerios are safe or free of glyphosate…

Defendant made material statements about the safety of Cheerios that were wither false or misleading."
In a statement, General Mills said its products are safe and meet regulatory safety levels. [1]
"The EPA has researched this issue and has set rules that we follow as do farmers who grow crops, including wheat and oats.

We continue to work closely with farmers, our suppliers, and conservation organizations to minimize the use of pesticides on the crops and ingredients we use in our foods."
(We should point out that glyphosate is an herbicide...)

Monsanto - now Bayer - is facing 8,000 lawsuits filed by people who allege glyphosate caused them or their loved one cancer.
Sometimes the Best Offense is a Good Defense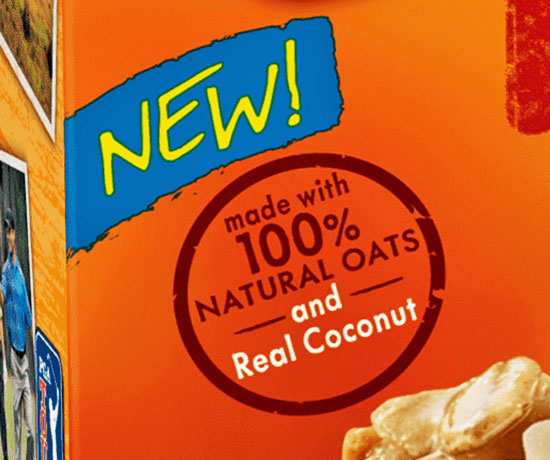 General Mills' agreement to remove the phrase "Made with 100% Natural Oats" from its Nature Valley products was not done out of the goodness of the company's heart.
Rather, it is to settle a lawsuit by 3 consumer groups:
...that said the granola bars contain small amounts of glyphosate. [3]

Independent tests showed that Natural Valley bars contained 0.45 parts per million (ppm) of glyphosate and pointed to the oats as the likely source of the chemical.

That number falls well below the EPA's threshold of 30 ppm, but the groups argued that General Mills' label was deceptive and that "no reasonable consumer" would expect the bars to contain anything unnatural.

General Mills spokesman Mike Siemienas said the company settled to avoid the cost and distraction of litigation, and will instead focus on making Nature Valley products,
"with 100% whole grain oats."
Many food companies have been hit with lawsuits in recent years over claims their product labels included deceptive terms such as "natural" that don't have clearly understood meanings.

General Mills faced a very similar lawsuit in 2016, but a Minneapolis judge dismissed the proposed class action last July over the company's "100% Natural" label, saying that even if the oats contained a trace amount of glyphosate,
"there is no allegation that the oats, themselves, are not natural."
A subsequent appeal was dismissed.


Sources



EWG Report Shows Unsafe Levels of...
Glyphosate Herbicide in Oat Products
by Mike Barrett
August 16, 2018
from NaturalSociety Website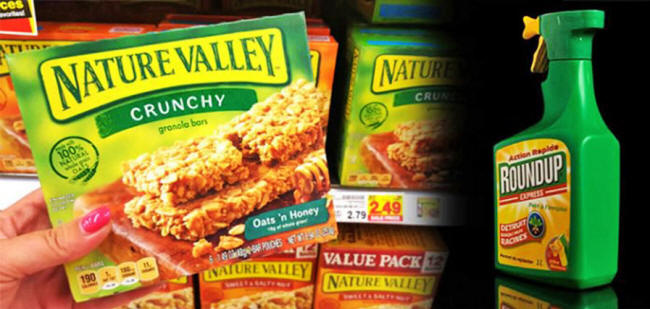 "Glyphosate
does not belong in cereal"


A report published August 15 by the Environmental Working Group (EWG) shows how some oat products, including,
oat cereals

oatmeals

granola and snack bars,
...contain unsafe levels of glyphosate - a chemical in the controversial weedkiller Roundup.

Nearly 3/4 of the oat products tested by the EWG contained higher levels of glyphosate than what the group's scientists have deemed "protective of children's health," the report reveals.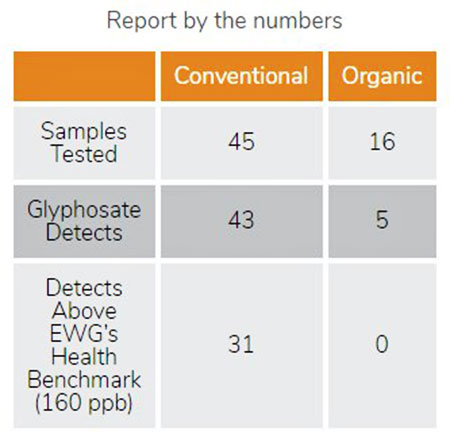 The findings are particularly relevant now that a Superior Court jury in California concluded that the maker of Roundup, Monsanto (now Bayer AG), failed to inform the public that glyphosate could cause cancer.
The jury awarded former school groundskeeper DeWayne Johnson $289 million in damages in the first of what could be thousands of trials facing the agrochemical giant.
The cases center around lawsuits filed on behalf of plaintiffs and their loved ones alleging that glyphosate causes non-Hodgkin lymphoma.

Monsanto has vowed to appeal the decision.

There are more than 750 products containing glyphosate on the U.S. market, according to the National Pesticide Information Center, a cooperative formed by Oregon State University and the U.S. Environmental Protection Agency (EPA).

The EWG tested a total of 45 products containing conventionally-grown oats and found that all but 2 of them contained unsafe levels of glyphosate.

Of the 16 organic oat products tested by the group, 5 contained dangerously-elevated levels of the chemical. [2]

Overall, 31 conventionally-grown oat products contained levels of glyphosate above the EWG's Health Benchmark of 160 parts per billion (ppb). None of the organically-grown products registered above the benchmark.

To establish the benchmark, EWG relied on a cancer risk assessment that was developed by California state scientists, according to Alexis Temkin, author of the report and the group's toxicologist. [1]
"EWG used that level to then develop a guideline that was more protective for children's health."
The EPA has a far different benchmark, however, based on estimates of the potential highest dietary exposure levels for children and adults.
According to the agency's calculations, 1- to 2-year-old children are likely to have the highest exposure at a level 230 times the EWG's health benchmark. [2]

Test Results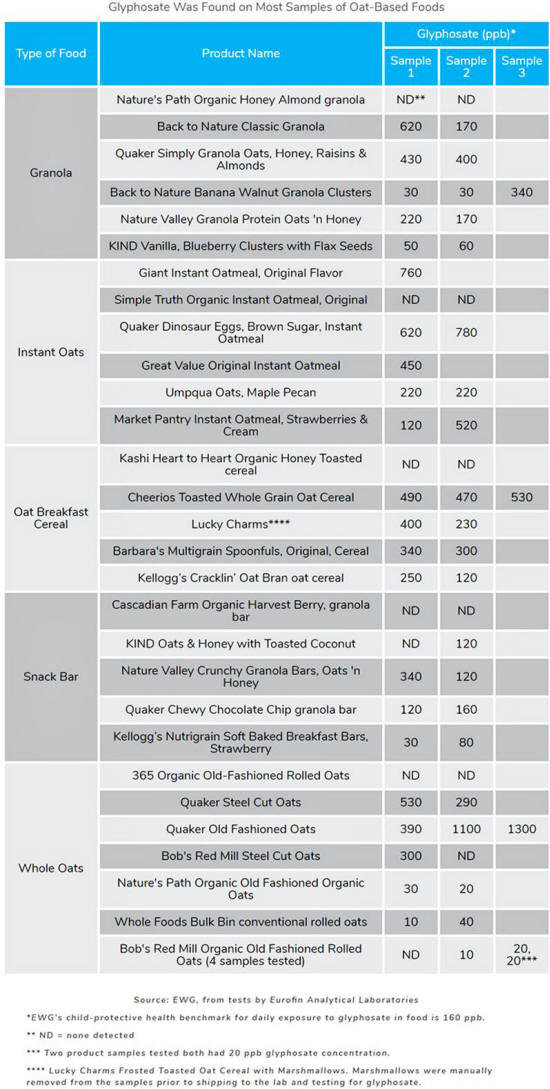 Quaker's Old Fashioned Oats contained the largest amount of the Roundup ingredient, at 1,300 ppb of glyphosate.

The rest of the worst of the worst include:
Granola - Back to Nature Banana, Walnut Granola Clusters (340 ppb)


Instant oats - Quaker Dinosaur Eggs, Brown Sugar, Instant Oatmeal (780 ppb)


Oat breakfast cereal - Cheerios Toasted Whole Grain Oat Cereal (530 ppb)


Snack bars - Quaker Chewy Chocolate Chip granola bars (160 ppb)
Roundup is the most heavily used herbicide in the world.
One study from 2012 states that 18.9 billion pounds (8.6 billion kilograms) of glyphosate have been used globally. Another 2016 study says that Americans have applied 1.8 million tons of glyphosate since its introduction in 1974, while 9.4 million tons of the chemical have been sprayed onto fields worldwide.

The Roundup chemical has been detected in a variety of different foods in the past, including oat products.
In 2016, testing conducted by the U.S. Food and Drug Administration (FDA) found trace amounts of glyphosate in a number of oat products, including plain and flavored oat cereals for babies.

The presence of glyphosate in Quaker Oats appears to be an ongoing problem.
The Taiwanese government recalled 137,000 pounds of oat products, including Old Fashioned Quaker Oats, because the country has a zero-tolerance policy when it comes to glyphosate in oats.

PepsiCo, the owner of Quaker Oats, has even faced lawsuits in the past filed on behalf of buyers who allege Quaker's "100% natural" label constitutes false advertising because the product contains glyphosate.

In the report, the EWG says that,
"glyphosate does not belong in cereal," and urges readers to pressure the FDA to restrict pre-harvest applications of glyphosate, and "tell companies to identify and use sources of glyphosate-free oats."

Sources