by Robert Arnason
March 22, 2018
from Producer Website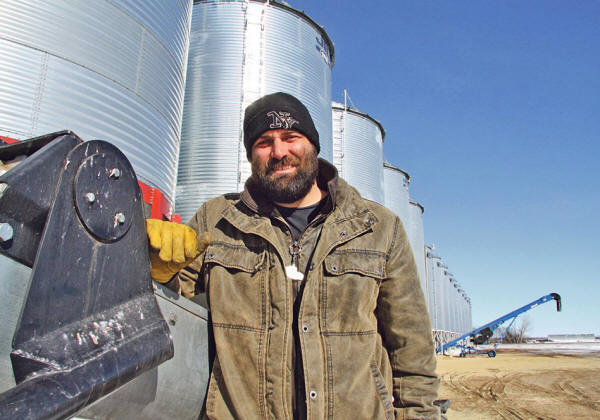 Part of Travis Heide's motivation
for converting a large farm to organics
is the fact that many people
don't believe it can be done.
Robert Arnason photo




40,000-Acre Farm Goes Organic
WALDRON, Sask
There are 25 grain bins in Travis Heide's farmyard, including six massive ones with a capacity of 70,000 bushels each.

In total, the bins can store around 550,000 bu. of grain. That's enough for 10,000 acres of spring wheat, assuming an average yield of 55 bu. per acre.

For most prairie farmers, 550,000 bu. of storage would be more than enough. Not for Heide. He has two other grain storage yards - one near Stockholm, Sask., and another by Whitewood, Sask.

Heide needs a massive number of grain bins because he farms 40,000 acres of cropland in eastern Saskatchewan.
Again, for most growers, that would be more than enough. Not Heide...

He's converting all 40,000 acres to organic.
"We're half and half this year, between organic and conventional," said Heide.

"We'll be 75 percent organic in 2019, and if we don't add anything else, in 2020 we'll be 100 percent organic."
If all goes according to plan, Heide will have the largest organic farm in Canada and possibly in North America.
"I have never heard of anything like that," said Laura Telford, organic development specialist with Manitoba Agriculture.

"That's kind of out of the ballpark. The biggest one I've heard of before is maybe 20,000 (acres)."
Laura Telford and other players in Canada's organic sector haven't heard of Heide because he's been quiet about his transition to organic.
He's created a company called Organics Canada Ltd. and will be producing a list of organic commodities, such as,
barley

oats

lentils

peas

wheat

hemp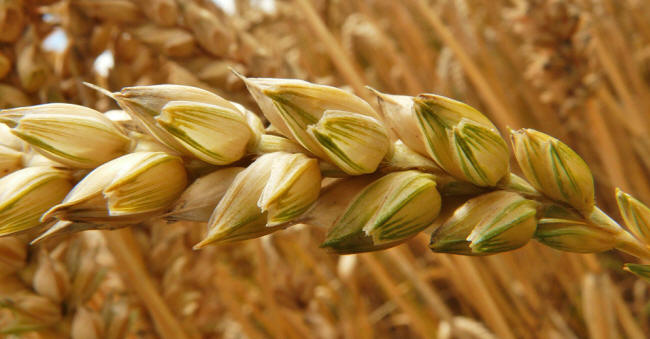 The size of the operation is impressive and it's more remarkable because Heide just started farming full-time in 2014.

Heide, who's in his late 30s, grew up on a farm near Moosomin, Sask., and is the oldest of four brothers. He was involved in the farm as a kid, and as a young adult he earned a business degree from the University of Saskatchewan. Like thousands of other young men and women from Saskatchewan, Heide moved to Calgary in the 2000s.

He took a job with a commodity trading firm and then started his own grain trading company.

Around 2007, Heide's father wanted to retire and asked his sons if they wanted to take over the family farm. Heide and his siblings weren't interested so his father ended up selling the farm.

At that time, Heide was in his late 20s and he decided to travel to Africa.
He was still interested in agriculture and helped start a farm in South Sudan.
"I was really on a journey to see how I could help and serve people."
After returning to Canada, a family friend in Moosomin asked Heide to help with the harvest.
He ran a combine for the neighbor in the fall of 2010.
"That's what really whet my appetite for farming," Heide said.
For the next couple of years he did custom combining in eastern Saskatchewan and managed a farm for a local group.
Heide then met Robert Andjelic, a Calgary businessperson who runs Andjelic Land Inc. and now owns 203,000 acres of Saskatchewan farmland.
"A realtor that Robert had bought some land with… gave my number to Robert," Heide said.

"He (Andjelic) had bought this land south of Whitewood and needed it broke, a good chunk of it was in pasture."
Heide agreed to do it and found people to help him.
"We broke 17 quarters in (about) two and a half weeks."
Andjelic recognized, immediately, that Heide is a hard worker.
"He puts his nose to the grindstone," he said.

"He doesn't give up until the job is done. That's what impressed me."
Soon after that, Heide and Andjelic met at a Tim Hortons, where Andjelic asked Heide to manage farmland around Waldron and Whitewood.

Heide agreed and in the spring of 2014 he seeded 7,000 acres of cropland with his brother, Garret.
"We looked after machinery, people and all that," Heide said.

"He provided us the land and access to the inputs."
Andjelic bought another parcel of land around Stockholm, south of Waldron on Highway 9.
That land was also in pasture and Heide decided to farm it organically because the previous owner hadn't used pesticides or fertilizer.
"That was kind of the beginning of the organic journey," Heide said.
Heide grew up on a conventional farm and wasn't opposed to pesticides, genetically modified crops and the other tools of modern agriculture.
However, what he noticed upon returning to farming was the price of inputs.
"Being away from it… I couldn't believe the costs, how they had increased."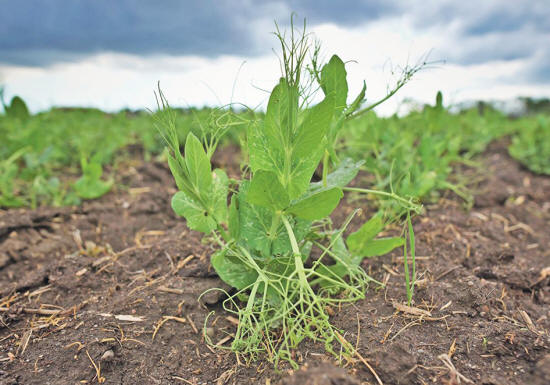 Did you know?

With 40,000 acres of cropland, Travis Heide of Waldron, Sask., likely has the largest organic farm in Canada.

In comparison, the entire province of Manitoba had about 50,000 acres of organic field crops in 2016.

Since he was managing freshly broken pasture land on part of the farm, Heide soon realized that the economics of organic were better than conventional, especially when crops such as organic flax are selling for $37 per bu.
"In organic, our costs were far lower, and because the value was up there, it just made sense," he said.

"Conventional doesn't make sense unless you have the best land in the area."
The economics were right, but another important and more personal factor pushed the decision along.

His wife, Amy, grew up on Vancouver Island in a family committed to local, organic food.

Amy and Travis, who have three young girls, had many conversations about organic versus conventional after they began farming near Waldron.
"I remember saying, 'you can't do it just because of money. You have to believe in it in order for it to work'," Amy said.
Heide didn't say if that argument ever won him over, but he admitted that he now thinks differently about crop production.

What's more obvious is that he wants to accomplish something that others claim can't be done.
"There's a whole bunch of status quos these days: you can't start a farm from scratch nowadays, you can't do a large organic farm because there's too much tillage."
Since beginning with 7,000 acres in 2014, the farm has rapidly expanded.

Heide began buying land and Andjelic bought more property. Soon, they had accumulated 40,000 acres on three parcels at Waldron, Stockholm and Whitewood.
"When we started with that 7,000 acres, it was never (the plan) that we're going to grow a 40,000 acre organic farm. Never."
Last spring, Heide was considering keeping half of the farm in conventional because he was planning to grow canola and soybeans.
However, managing a conventional-organic operation is not easy because equipment must be cleaned for organic certification.
"We had done it the year before and it was a lot of work," Heide said.

"Last minute (we) decided to transition everything. We're not fence sitters… We kind of felt we had to go all in. If we're going to do this, let's dive right in."
Jumping in the deep end and managing 40,000 acres requires people. Heide, along with his brother, Garret, have about 15 full-time employees.

Most of the employees are friends and acquaintances who moved to eastern Saskatchewan to work on the farm.
"Initially, it was friends of mine from New Zealand," Heide said.

"It just kept on being more friends of friends. Lately we've got (a few) South African families helping us out. We've got a couple from Olds, Alta… so we've really become a collection of families."
Some of the employees have experience with livestock, and Heide is considering adding cattle to the operation, mostly because livestock are critical for getting phosphorus to the soil.
They may need 40,000 head of cattle to maintain soil fertility on 40,000 acres, Heide estimated.

An organic farm with 40,000 acres, 15 or more employees and potentially 40,000 head of livestock is an incredibly complex operation. Nonetheless, Heide is committed to doing something big and meaningful.

He envisions a future where some of his employees start their own organic farms, in other parts of Saskatchewan, and the Waldron operation becomes a hub to discover and develop best practices for organic production.
"If I'm only creating opportunity for myself, then what's the point?" Heide said.

"If we can create opportunity for other people, create employment… that's what we're excited about."