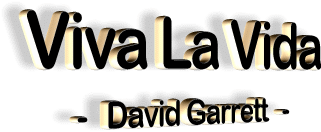 27 Julio 2015
del Sitio Web YouTube
Tremendo mensaje,
mucho mas poderoso,
que la letra original de la canción.
Sincronía total entre
la música y el mensaje expresado.
Emocionante, revitalizante y esperanzador.
Mi alma lo agradece.
Las cosas pasan por alguna razón...
y si experimentas lo dicho aquí arriba...
pues simplemente,
esto tocó el sentimiento mas profundo
que habita en cada uno de nosotros...
December 23, 2012
from Vimeo Website
"Viva La Vida" song of the British alternative rock band Coldplay. What kind of music sounds!

The brilliant performance of the Prince of violin music, genius musician David Garrett brilliant musical creature.

Divine, charming music, fantastic ringtone, enlightens the heart and soul, plunged into the world of the beautiful delicate and emotional game, melodiousness combined with elegance, technical perfection, bright, clean, beautiful, mesmerizing execution, pizzicato delightful.

What a pleasure to revel the splendid violin playing of the great artist.

Remarkable orchestra with excellent musicians and lovely game.

English Version Lyrics
I used to rule the world
Seas would rise when I gave the word
Now in the morning I sleep alone
Sweep the streets I used to own

I used to roll the dice
Feel the fear in my enemy's eyes
Listen as the crowd would sing:
Now the old king is dead! Long live the king!

One minute I held the key
Next the walls were closed on me
And I discovered that my castles stand
Upon pillars of salt and pillars of sand

I hear Jerusalem bells a ringing
Roman Cavalry choirs are singing
Be my mirror my sword and shield
My missionaries in a foreign field

For some reason I can't explain
Once you know there was never, never an honest word
That was when I ruled the world

It was the wicked and wild wind
Blew down the doors to let me in.
Shattered windows and the sound of drums
People couldn't believe what I'd become

Revolutionaries wait
For my head on a silver plate
Just a puppet on a lonely string
Oh who would ever want to be king?

I hear Jerusalem bells a ringing
Roman Cavalry choirs are singing
Be my mirror my sword and shield
My missionaries in a foreign field

For some reason I can't explain
I know Saint Peter won't call my name
Never an honest word
But that was when I ruled the world

I hear Jerusalem bells a ringing
Roman Cavalry choirs are singing
Be my mirror my sword and shield
My missionaries in a foreign field

For some reason I can't explain
I know Saint Peter won't call my name
Never an honest word

But that was when I ruled the world
Oooooh Oooooh Oooooh