TRUMP IV "THE EMPEROR"
| | | |
| --- | --- | --- |
| | Occult Code | Genetic Code |
| Hebrew Letter: | TZADDI | GLUTAMINE |
| Letter Class: | SIMPLE | POLAR Amino Acid |
| I Ching Kua: | 13 FELLOWSHIP WITH MEN | CAA |
| | 30 THE CLINGING, FIRE | CAG |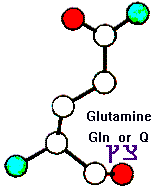 Crowley: Pour water on thyself: thus shalt thou be a fountain to the universe. Find thou thyself in every star. Achieve thou every possibility. War, conquest, victory, strife, ambition, originality, over-weening confidence and megalomania, quarrelsomeness, energy, vigour, stubbornness, impracticality, rashness, ill-temper. (BT p. 255)
The connecting concepts between this card and these kua are; fire, violence, and leadership. As usual, Crowley presents a yang interpretation which finds its complementary yin in the Wilhelm interpretation of the I Ching.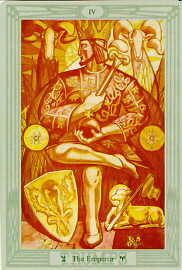 Kua 30 contains some warlike imagery but generally it counsels violence only as an extreme last resort.
Kua 30, line 6: THE KING USES HIM TO MARCH FORTH AND CHASTISE. THEN IT IS BEST TO KILL THE LEADERS AND TAKE CAPTIVE THE FOLLOWERS. (p. 121)
It is the symbolism of fire combined with the concept of leadership that distinguishes this card/kua combination from other combinations.
Crowley: This card contains ... the alchemical symbol of sulphur. Sulphur is the male fiery energy of the universe, ... (BT p. 77)
Wilhelm: (kua 30) As an image, it is fire. ... As water pours down from heaven, so fire flames up from earth. (p. 118)
Crowley: ... the quality of this power, ... represents sudden, violent, but impermanent activity. If it persists too long it burns and destroys. (BT p. 78)
Kua 30, line 4: ITS COMING IS SUDDEN; IT FLAMES UP, DIES DOWN, IS THROWN AWAY. (p. 121)
Wilhelm: (kua 30) A man who is excitable and restless may rise quickly to prominence but produces no lasting effects. Thus matters end badly when a man spends himself too rapidly and consumes himself like a meteor. (p. 121)
Crowley: Find thou thyself in every star.
Wilhelm's astronomy metaphor is echoed by Crowley and this is only proper since the penultimate imagery not only of fire but of rulership is the sun. Only the sun and, by extension, the stars are capable of burning with anything approaching eternity.
Crowley's advice is to keep the internal fire under control.
Crowley: Pour water on thyself: thus shalt thou be a fountain to the universe.
Crowley: (I Ching, kua 30) Sun; attachment. Be thy way docile as well as firm - then see good fortune smile.
Wilhelm: (kua 30) A luminous thing giving out light must have within itself something that perseveres; otherwise it will in time burn itself out. Human life on earth is conditioned and unfree, and when a man recognizes this limitation and makes himself dependent upon the harmonious and beneficent forces of the cosmos, he achieves success. (p. 119)
Kua 30, The image: THUS THE GREAT MAN, BY PERPETUATING HIS BRIGHTNESS, ILLUMINES THE FOUR QUARTERS OF THE WORLD. (p. 119)
Wilhelm: (kua 30) The great man continues the work of nature in the human world. (p. 119)
Crowley: Achieve thou every possibility.
Crowley: ... a combination of energy in its most material form with the idea of authority. ... This is the theory of government. (BT p. 77)
Of course not every individual can attain a social position equivalent to that of an emperor, but the I Ching provides another form of association and another set of attributes for leadership which stem from the same symbolism but with a completely different attitude.
Wilhelm: ( kua 13) It is the nature of fire to flame up to heaven. This gives the idea of fellowship. This hexagram forms a complement to SHIH, THE ARMY (7). In the latter, danger is within and obedience without - the character of a warlike army, which, in order to hold together, needs one strong man among the many who are weak. Here clarity is within and strength without - the character of a peaceful union of men, which in order to hold together, needs one yielding nature among many firm persons. In order to bring about this sort of fellowship, a persevering and enlightened leader is needed - a man with clear, convincing, and inspiring aims and the strength to carry them out. (p. 56)
In a typical east/west reversal, Crowley gave his emperor the combined attributes of fire and leadership but his vision of leadership is more in tune with kua 7 "THE ARMY," which is the complement of the vision of leadership given in kua 13 "FELLOWSHIP."
The analysis given above is, of course, based on Confucian philosophy. I don't think Crowley had very much sympathy with the strict, moralistic tone of those revered social architects. Let's see how Crowley interpreted kua 13.

                              "UNION (OF MEN)"

            "Men's union! Everywhere the clan!
            Cross then the stream, thou firm superior man.
            Here first the master rises from his gate.
            Well should he flee the cares of family!
            Concealed, but watchful, the right born await!
            Be ready to attack, but tempt not fate.
            Through tears to laughter, victory crowns thy state.
            Even in the suburbs men proclaim thee great."

This is more like Crowley's emperor! It is one of the great joys, when working with symbols, to observe how different personalities can provoke new and divergent meanings and connotations from the same stimulus.
Like some of the other card/kua syntheses this one includes an added bonus in that the Hebrew letter, which has a traditional meaning separate from the tarot card to which it is assigned, has a parallel imagery with one of the I Ching kua.
The letter TZADDI means, "a fish-hook."
Kua 30, Appended judgements: FU HSI, MADE KNOTTED CORDS AND USED THEM FOR NETS AND BASKETS IN HUNTING AND FISHING. HE PROBABLY TOOK THIS FROM THE HEXAGRAM OF THE CLINGING. (p. 536)
Wilhelm: A net consists of meshes, empty within and surrounded by threads without. The hexagram LI, THE CLINGING (30), represents a combination of meshes of this sort. Furthermore, the written character means "to cling to" or "to be caught on something." (From the Ta Chuan, chapter II paragraph 2, p. 329-330)
In the trump of "THE EMPEROR" we have a letter assigned which means "fish-hook" and we are notified that kua 30, which characterizes the fiery aspects of the emperor, was the legendary stimulus for the invention of fish catching apparatus. The ancient Chinese also associated fishing with rulership.
"According to the Po Ku T'u (q.v.), fish are compared to a king's subjects, and the art of angling to that of ruling. Thus an unskilled angler will catch no fish, nor will a tactless prince win over his people." (C.A.S. Williams, "Outlines of Chinese Symbolism and Art Motives", Dover Publications, 1976, p. 185.)
As a final confirmation for the rightness of the association of these kua with this atu I quote a portion of page 31 of "777 and Other Qabalistic Writings of Aliester Crowley":
"90. Number of Tzaddi, a fishhook = Tanha, the clinging (title of kua 30) of man to life (9), the trap in which man is caught as a fish is caught by a hook."