LAUNCH PHASE ABM SYSTEM
SLIDE 65
"BIG EYE SCANS GRID SQUARES, DETECTS PENETRATION

COMPUTER TRIGGERS MULTIPLE TRANSMITTERS

PULSES PHASED SO EMP PULSE OCCURS IN DESIRED SQUARE

PENETRANT IS DUDDED OR DESTROYED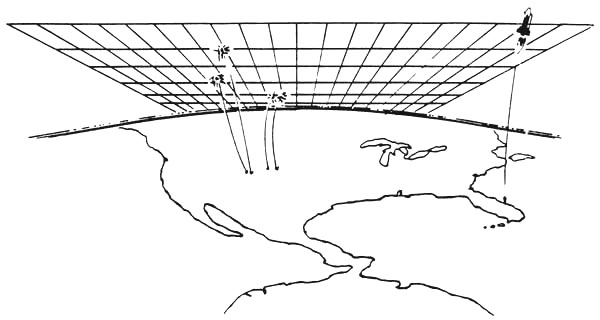 On this slide we show the use of the Woodpecker grid in the Launch Phase ABM system role.
The scalar components establish an interference grid over the U.S., at some altitude above the earth. One or more separate scalar interferometers transmit through scalar channels established in the Woodpecker's normal EM carriers, scanning through the grid square cells one by one in the "just barely extract energy" endothermic mode. Back in the Soviet Union, the energy extracted passes through a scanned receiver biased just so that the normal energy extracted from the distant atmosphere does not show on a scanning screen. Any substantial amount of additional energy appearing in the cell --such as from the jet engines of a large aircraft or the rocket exhaust of a large missile -- will be detected.
The operation of this weapon is four-fold: (1) the scanning interferometer or "big eye" scans the grid squares, detects penetration, and tracks the rising missile. (2) A separate scalar EM interferometer (a howitzer) is controlled by a computer and fired through a separate scalar EM channel opened in the ordinary EM woodpecker carriers. (3) Two timed scalar pulses are fired so that they converge and meet in the grid cell containing the rising missile. This results in the sudden emergence of a violent EMP pulse throughout the missile and the surrounding vicinity. (4) All missile and warhead electrical and electronic systems are instantly dudded and destroyed. In addition, fuels, propellants, and explosives of
the missile are immediately ignited, explosively destroying the penetrating missile.
That takes care of the missile target. (The same weapon, of course, can be used against airborne strategic bombers -- including Stealth-type bombers. In fact, Gary Powers' high flying aircraft was probably shot down in 1960 by a "jury-rigged" scalar EM howitzer using modified radars and timed scalar pulses to provide an aerial explosion and EMP. )
The Woodpecker grid/howitzer weapon system can be placed over the ocean and used against cruise missiles, naval surface-to-air and surface-to-surface missiles, submarine-launched ballistic and cruise missiles, etc. Placed over a carrier task force, it can also take care of the aircraft launched by the carrier as fast as they are launched. It can also handily take care of the missiles launched by guided-missile cruisers of the accompanying task force.
Now let's take a look at the command and fire control end of this weapon system, way back in the Soviet Union.