MUSHROOM CLOUD FROM SEA
OFF JAPAN NEAR RUSSIAN TEST AREA
SLIDE 44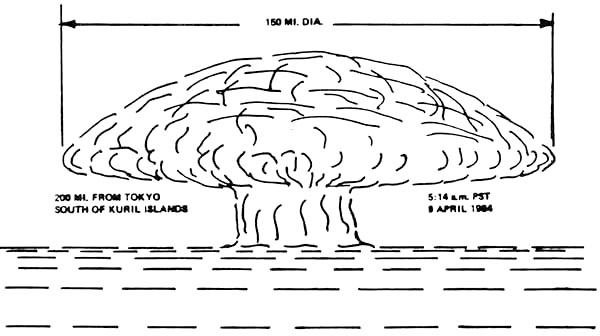 A short time before, the Soviets had hastily announced missile tests would be conducted into a zone some distance away from the cold explosion site. This may have been intended as deception to cover this incident, should any foreign nation indicate they understood what was going on.
It also was a direct "stimulus" to the Japanese and the rest of the world: That is, stimulate the system and see if the scientists recognize what happened. If they do, then they know about scalar EM weapons. If they donít, then their countries know nothing of scalar EM weapons, and those countries are defenseless against them.
At any rate, at about 5:14 a.m. Pacific Standard Time on April 9, 1984, a giant mushroom cloud erupted above the ocean south of the Kuril Islands. The mushroom rose rapidly, expanding as it rose. In two minutes it had reached an altitude of 60,000 feet and a diameter of about 200 miles.
One pilot of a Boeing 747 who observed the cloud was a former B-52 bomber pilot. He described the cloud as very similar to a mushroom cloud from a gigantic nuclear explosion, except there was no flash of visible light. Taking evasive action, he turned off course away from the blast, and braced for a blast shock wave which never came.